The Cheeky Monkey Media Blog
A few words from the apes, monkeys, and various primates that make up the Cheeky Monkey Super Squad.

Cheeky Monkey Takes Third for Leading Web Developers in Canada

February 21, 2018 / Treena Bjarnason
We're extremely proud to kick off our 2018 by accepting an array of awards in Clutch's annual report of top firms in the United Kingdom and Canada, featuring the 374 most highly reviewed companies in these locations! Against other development leaders, we were listed as the third-best Drupal developer and web developer in Canada. It's important to note that while any company may be listed on Clutch for free, only the greatest are featured as leaders, by means of verified reviews and Clutch's unique scoring methodology.
Clutch is a B2B ratings and reviews platform based in Washington, DC, collecting evaluations of over 7,000 companies across 500+ industry verticals, ranging from Drupal developers in Canada to answering services around the world. Their goal is to create meaningful relationships between the buyers and sellers on their site. The core of their evaluation lies in reference interviews, where Clutch interviews a company's references concerning the challenges, solutions, and results of their time working together. Paired with a scoring methodology that encompasses over a dozen quantitative and qualitative factors, Clutch is thereby able to separate the firms that deliver from those that do not.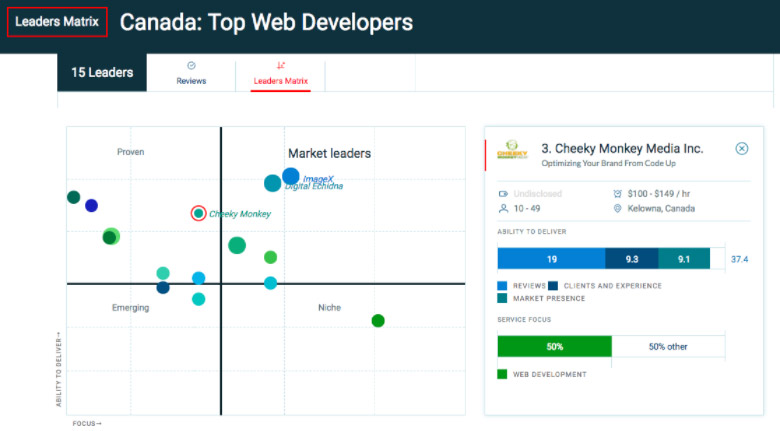 While we dedicate much of our team's hard work to this success, it's important to highlight the clients who've helped us construct better projects, learn, and grow into a more inspiring company along the way. It is via their feedback and dynamic that motivates us to keep reaching for that first-place position. Although we've been building our Clutch presence for some time now, here is a very recent entry from a client of ours:
"We've noticed 41% more traffic on our websites and reached five figures in e-commerce sales. The sites continue to improve, which makes our marketing team extremely happy," mentioned the Marketing Supervisor of a paddle manufacturer.
They went on to commend our project management expertise:
"They're fantastic! Cheeky Monkey offered great communication, follow-through, and support from the account manager and the primary programmer. Most programmers don't communicate in terms that marketing teams can understand, but Cheeky Monkey made sure everything was clear for us."
They elaborated on what made working with us unique and our dedication to the project:
"I appreciated how easy they are to work with. They really take the stress out of website management…they wanted us to learn how to make changes or improvements ourselves, which gives us a better sense of control and reduces our costs. They're unlike any other firm I've encountered."
To learn more about our client's experiences and why we're ranked third among top Canadian development firms, stay up-to-date with our Clutch profile here.