The Cheeky Monkey Media Blog
A few words from the apes, monkeys, and various primates that make up the Cheeky Monkey Super Squad.

4 Questions to Help You Organize Your AdWords Campaigns Better

November 2, 2016 / Ashley Olsen
Last September, the Cheeky Monkey Media team headed to MozCon in Seattle, Washington. If you've never been to this conference, add it to your must-attend list. We met some super cool people, and we had a chance to talk shop with others in our field. One of these cool people is Tracy McDonald an expert Digital Strategist located in San Diego, CA. This is what Tracy has to say about Google Adwords:
I know firsthand that Google AdWords can be intimidating for people new to Paid Search.
When I started working in Google AdWords, I knew that the first thing I needed to get down was a strategy for organizing my campaigns.
How many campaigns did I need?
How was I going to split them up?
A tidy campaign structure means more coherent data, and more coherent data leads to easy-to-implement tactics that result in more conversions. So, naturally, I turned to Google to investigate how to get these campaigns to look pretty.
Surprisingly, I turned up nothing relevant to the industries I was working on, and other articles merely glossed over how it was "different from Facebook" or to "organize your campaign how your website is organized", neither of which were particularly helpful. I ended up having to figure it out slowly over a couple of campaigns (and far too many account restructurings on my own time) to find a system that worked best.
So, here are the results of those trials so you don't have to struggle as I did.
The Big Picture
The following are the four main factors that I found the most useful when figuring out how to break up my campaigns:
Service/Product
Cost Per Click
Location
Budget
Now that I've glossed over the main factors, let's talk about organization. The following 4 questions will help you set a foundation for figuring out how to organize your campaigns. I am going to use two specific examples, one is a landscaping business and the other is a dog resort. Let's call them Plants and Paws respectively to make things easy to remember.
The 4 Big Questions:
1.) Are my products or services split into different categories?
People search for things online because they are asking a question and looking for the answer. If you supply multiple products or services, then people are most likely going to be asking different types of questions depending on whether they are looking for one service or the other. Splitting up keywords based on the service or product they relate to will help you better understand exactly what people are looking for, how many people are looking for it, and how many other people or companies are supplying that product or service. Let's look at our Plants and Paws examples to see what this will look like.
Plants provide landscaping services as well as artificial turf and rain gutter installation. So let's start by breaking out their campaigns like this: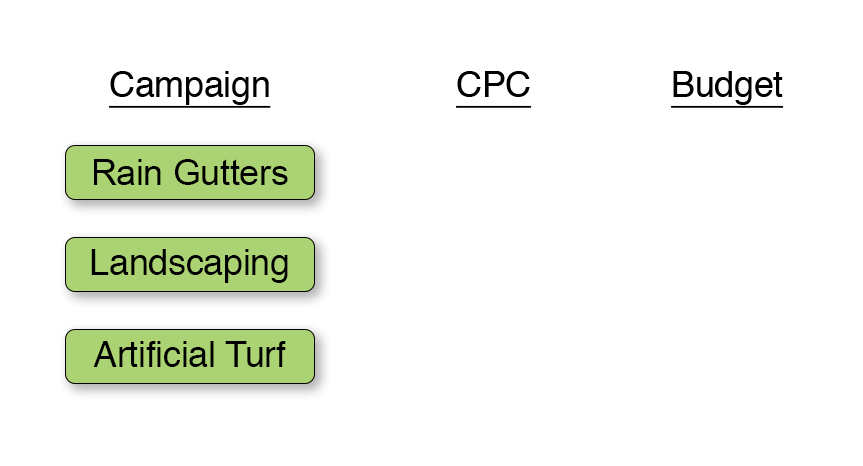 Paws provide four different services: dog training, dog grooming, dog boarding, and dog daycare. Their campaigns should break out as such: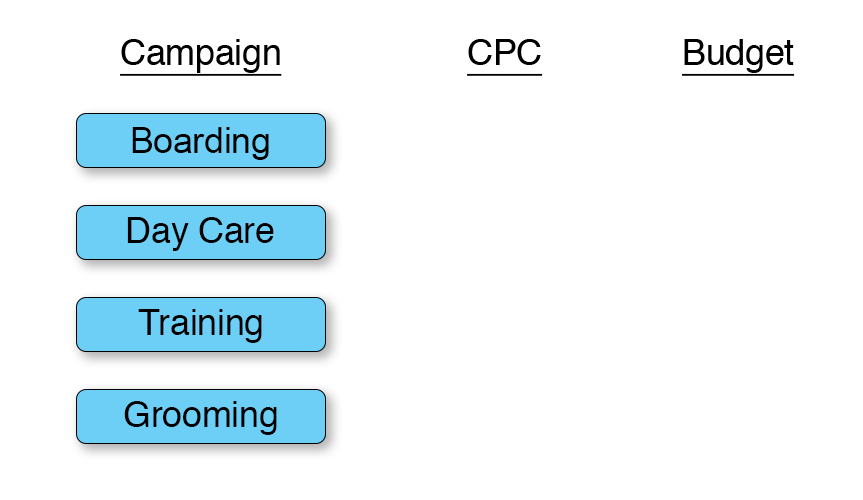 2.) Does your business have multiple locations? How far away are they and do they have similar target markets?
If your business has multiple locations or different service areas, take a look at how far away these are from each other. If the locations are 10 miles away from each other, people would probably travel to either, so using location targeting that includes both would be beneficial. If they are 50 miles away from each other, they are probably targeting entirely separate groups of people, so splitting them up into separate campaigns is best.
The plant has 1 service area, so no need to split the campaigns into different location-based target markets.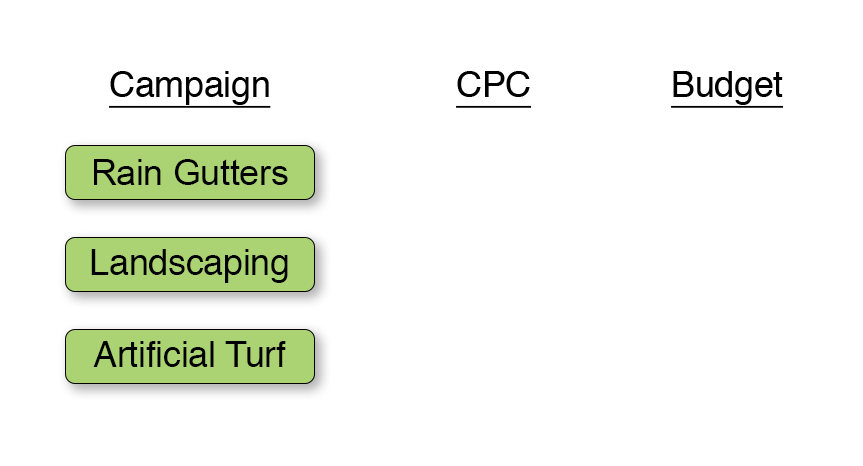 Paws have 3 drastically different locations in different states, so each location gets its own campaigns, as well as each service. So each location has a campaign for each service, which ends up looking like this: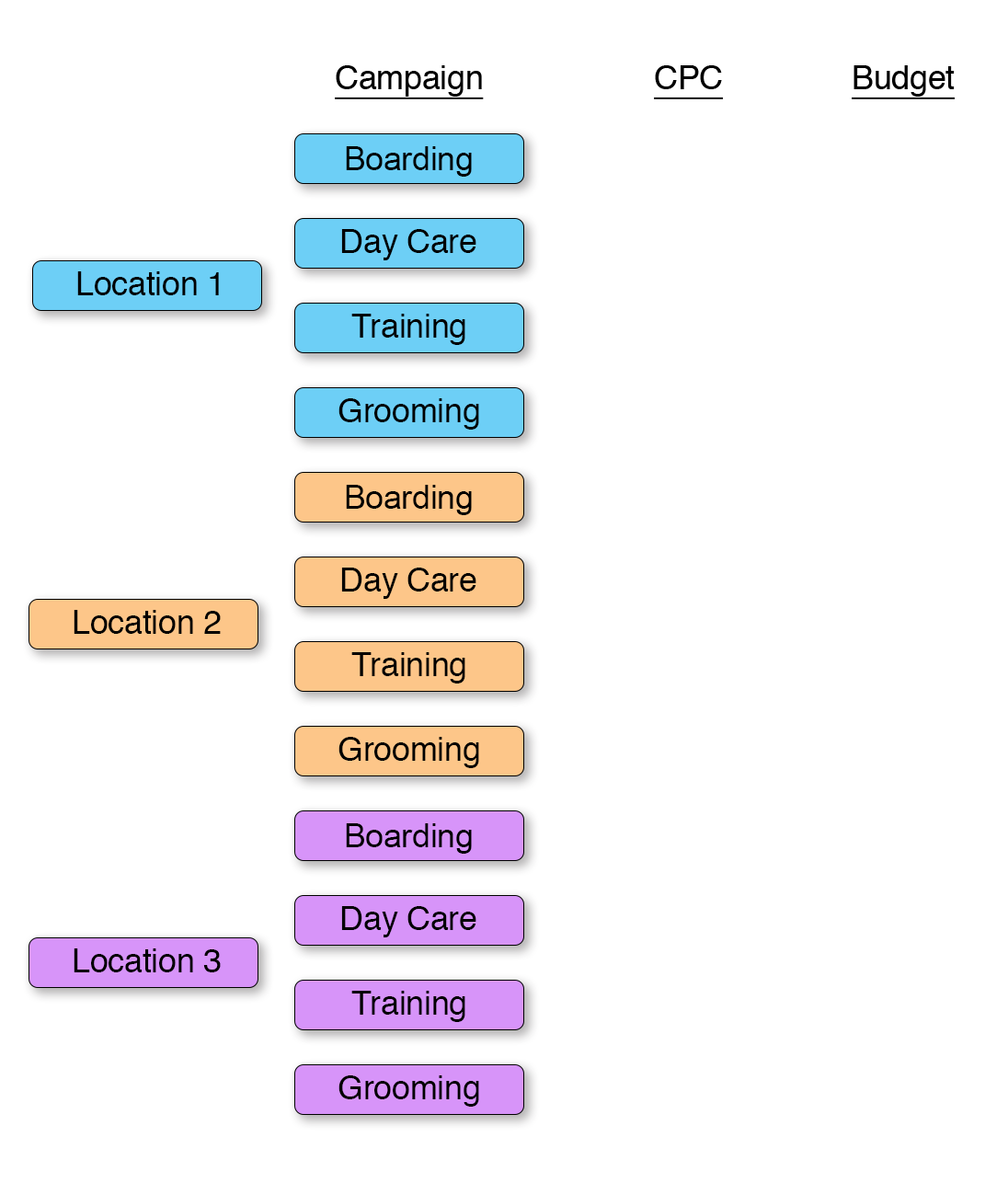 3.) What is the suggested cost per click for each service?
In order to get an effective look at how a campaign is performing, keywords with similar costs per click should be grouped together. If one service has a CPC of $10 and another service has a CPC of $1, then your average CPC for a campaign that includes both keywords would be $5.50, which isn't accurate for understanding what each service is costing you for a click individually.
Since Plant provides 3 different services and they all have a very different costs per clicks, so they should not be combined into the same campaign.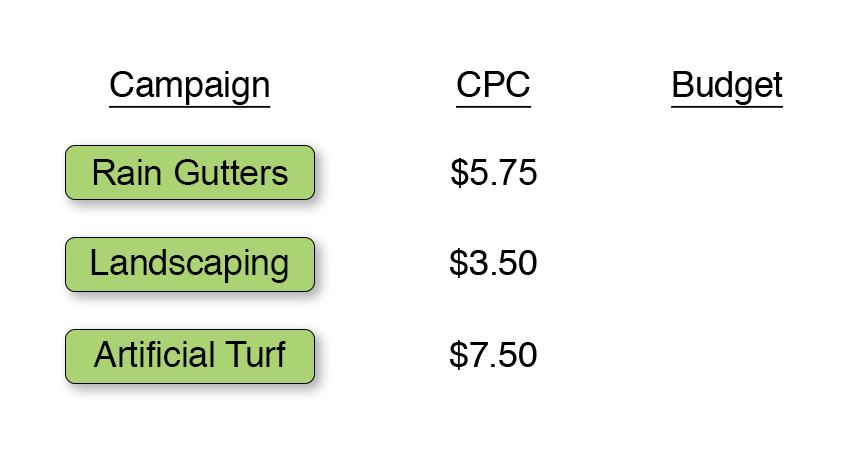 Paws provide 4 different services with a different CPC for each service, so they should be split up into different campaigns.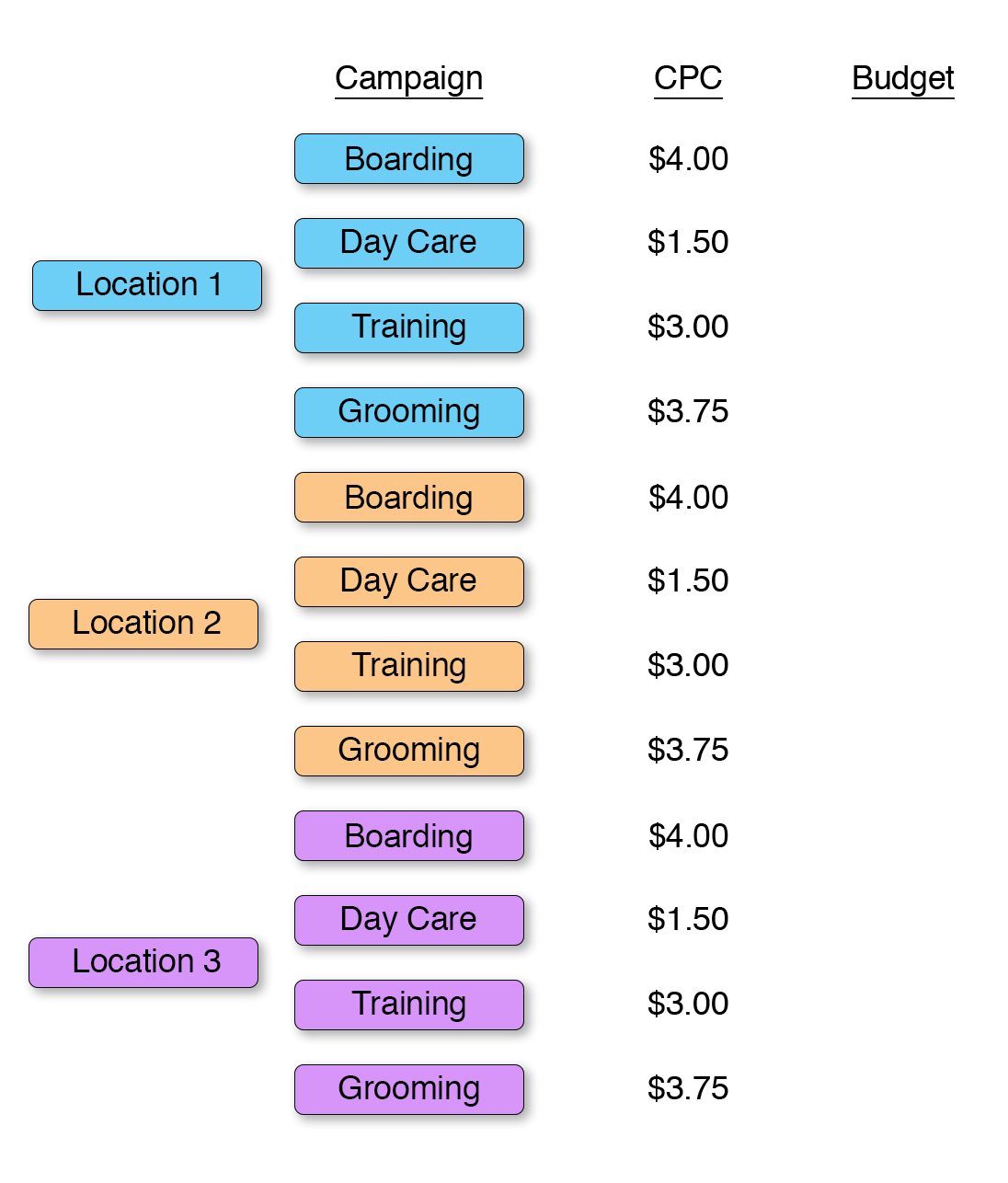 4.) How is your budget split up? Do different services or locations have different budgets?
The budget is set at either a shared campaign level or a singular campaign level, so if a larger portion of your budget needs to be allocated to one service over the other, then separate campaigns and separate budgets are the best way to do this.
Keep in mind the cost per click for each service or product group as well. If one service has a much higher cost per click, more budget should be put towards it in order to get enough clicks to gain relevant data.
In the case of our examples:
The plant wants equal leads for each service, so splitting the budget up proportionately based on the CPC is the best strategy here. If their total daily budget is $100, then based on their predicted CPCs, the budget would be split up as such: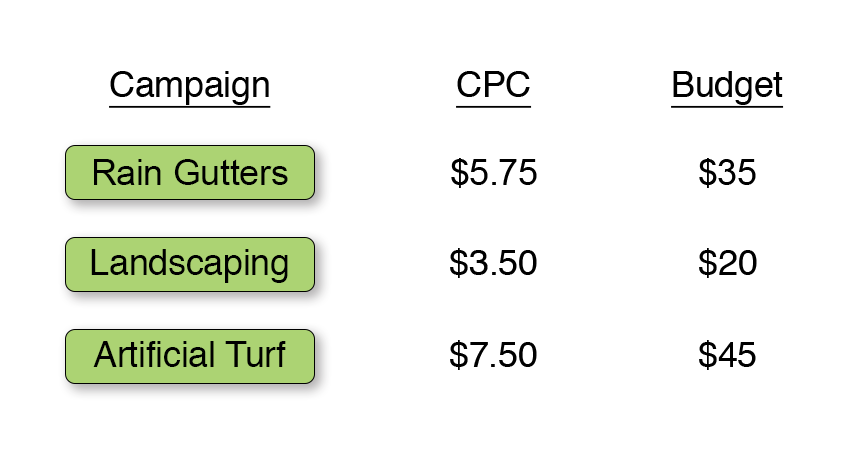 Paws want more boarding leads than other campaigns, so putting 50% of their budget towards boarding and the remainder for the other campaigns will make sure they are getting more boarding leads than training, grooming, or daycare.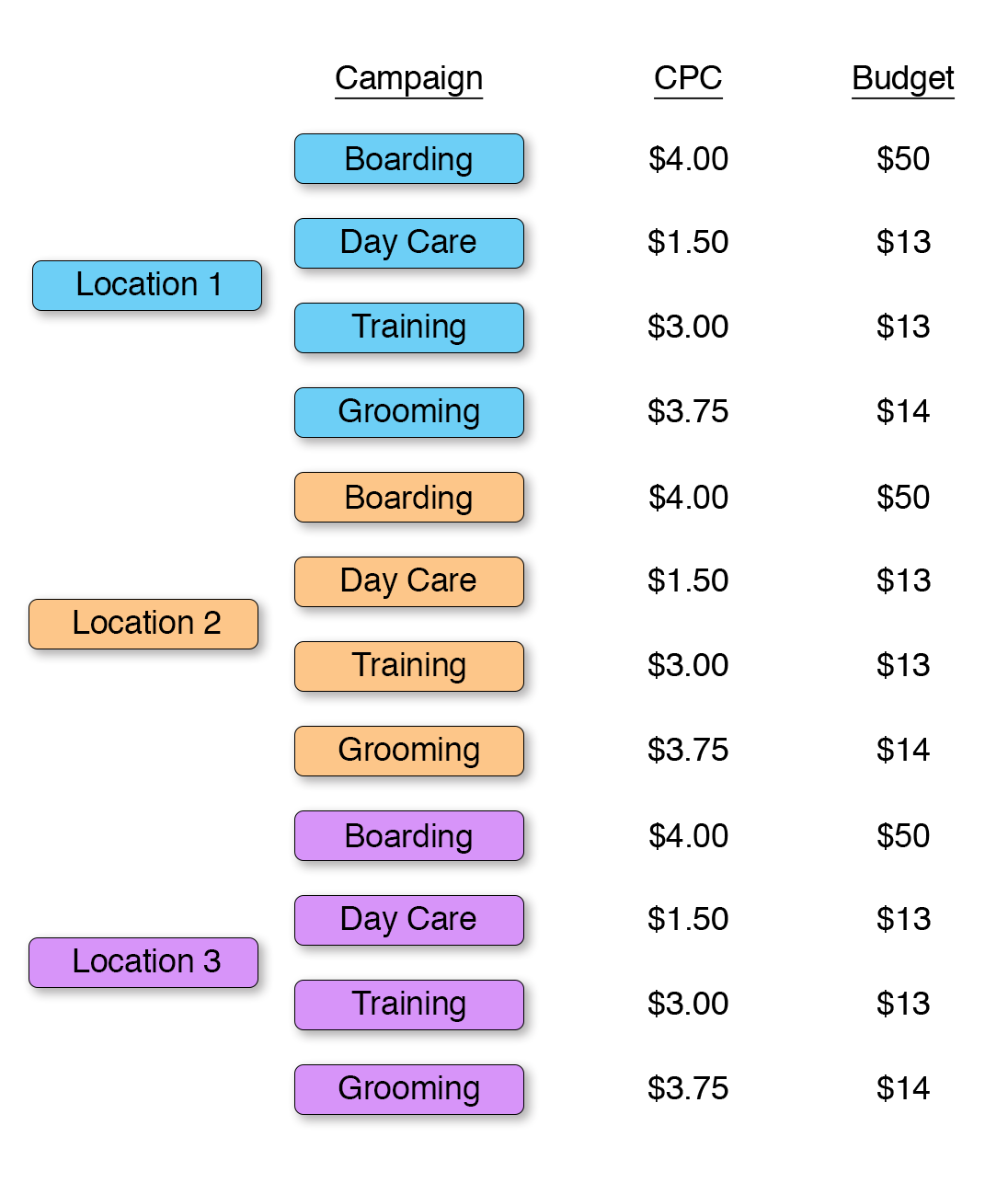 This organization strategy has helped me effectively track the return on ad spend per service, per location, and per budget. Using this strategy, I can maintain a consistent return on ad spend because I have relevant data with as few independent variables as possible. This means that if there is a change in the data, I have a pretty good idea of what caused it. For example, if my CPC goes up and my conversions go down, it might be because my budget is too low for that campaign, and I'm not getting enough clicks, or another competitor started advertising for those keywords, so I should change up my ad copy to stand out more.
Remember, the more granular you get with your organization strategy to start off with, the more relevant your data will be, especially when comparing trends over time. Because AdWords doesn't transfer previous click data if you copy and paste a keyword or ad group over to another campaign, it is almost always better to start off with more campaigns and ad groups rather than fewer.
I'm always ready to adapt my organization strategies to maximize my analytical power and am happy to share more tips and tricks, so leave a comment below if you have any questions or suggestions!
~ Tracy McDonald
Now that you know how to organize your GoogleAdwords Campaigns, learn "How to Reduce Your Cost Per Lead."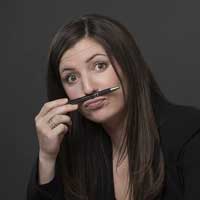 This blog was submitted by guest blogger Tracy McDonald: A paid advertising specialist with a penchant for excel sheets, Tracy is the residential Digital Strategist at Explore That Store. You will find her slaying Dr. Mario during lunch or cooking Gumbo on the weekends.