World Movement for Democracy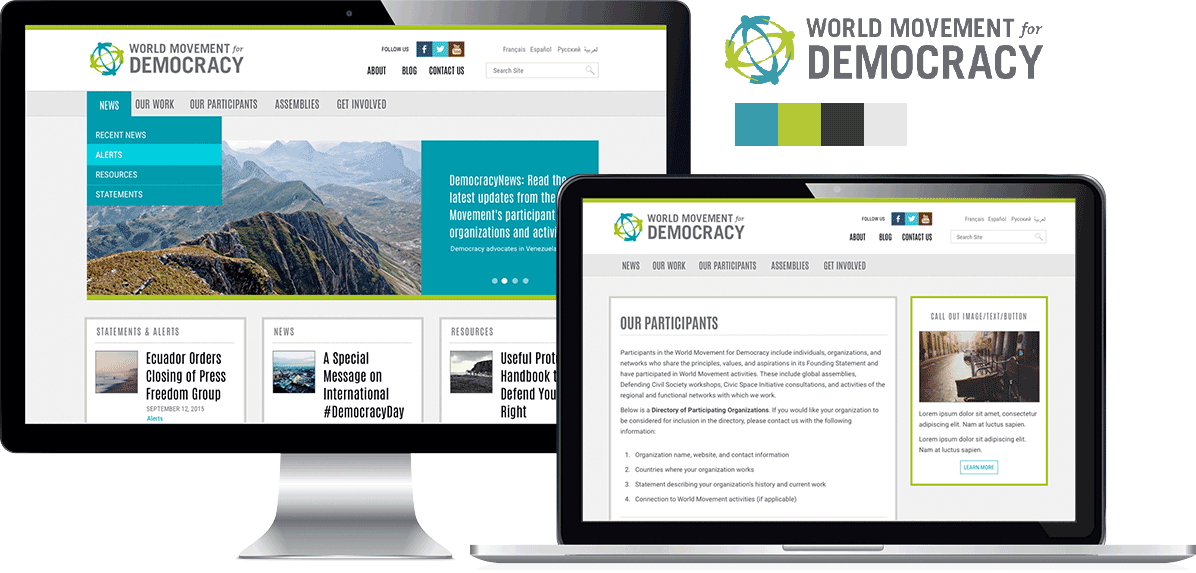 The Situation
The World Movement for Democracy is a global network of activists, practitioners, scholars, policy makers, and funders who work to advance democracy.
Participants actively engage in or support struggles to open closed societies, challenge dictatorships, democratize semi-authoritarian systems, consolidate emerging democracies, and reform and invigorate established democracies both old and new.
The team at World Movement for Democracy was experiencing difficulties managing, controlling and updating the content on their Drupal 7 website. They also felt the look of their site was outdated and in need of a refresh, and it needed to be easier to share on social media. The WM for Democracy team also needed help with:
The ability to make some customizations and update styles to specific areas of the site (blocks)
Participants page was hard to filter content
Tagging system is broken
The Solution
Work began with a design and theme touch up for the website. Fonts were updated to be more bold and readable and some key elements were moved so as to be found more easily by the website's users. While there were a few colour changes from the original design, brand consistency was maintained and optimized for an overall theme refresh.
By using open source contributed modules like Drupal Panelizer and Panels  we were able to make editing and the site layout less difficult to manage. In addition to this, leveraging contributed modules, the cost of development was reduced considerably. All content types were configured with this functionality which allowed the Democracy team to easily manage what regions in their site they needed to edit or stand out.
A custom search was created using the Drupal Views module to help better filter content for the WM of Democracy team and to improve a user's overall experience.
The theme was updated to include Bootstrap (a responsive framework) and Sass, to make it easier to update in the future. The Addthis widget was utilized to make sharing on Social Media simple and convenient for our client.
Success!
To help strengthen, defend, and support democracy is now a more streamlined process for our client thanks to a more efficient and user friendly site for all. It was a big win that their team could easily share their mission on social media and that their administrative team could finally navigate the backend functionality on their site. The World Movement for Democracy team was also thrilled with the updated look and feel for the website.