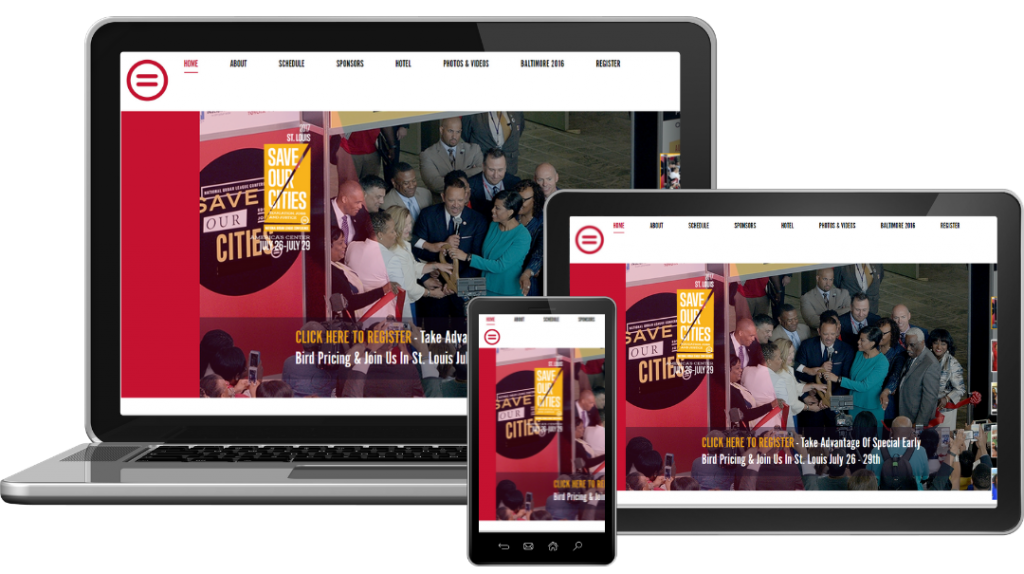 The Situation
The National Urban League is a historic civil rights organization dedicated to economic empowerment in order to elevate the standard of living in historically underserved urban communities. Founded in 1910 and headquartered in New York City, the National Urban League spearheads the efforts of its local affiliates through the development of programs, public policy research and advocacy. Today, the National Urban League has 88 affiliates serving 300 communities, in 36 states and the District of Columbia, providing direct services that impact and improve the lives of more than 2 million people nationwide.
The major problem for The National Urban League (NUL) was their inability to reuse their Annual Conference site. Since 2011, they had been building new conference sites each year and were tired of recreating the wheel for every conference. While their website was evolving each year to be more mobile friendly, it still was not fully responsive which left many of their visitors unable to view their site's full potential. Being fans of Cheeky Monkey's work on the Los Angeles & New Orleans DrupalCons, along with our experience from the Drupal Job Boards project, NUL came to us for help for creating a main site they could retheme each year. 
The Solution
Discovery & Strategy
Team communication played a large role in the project. In the early stages, the Monkeys and NUL went over their previous year's sites to determine the pains NUL would go through every year. These conversations also allowed NUL to point out specific features that they wanted in the new site and discuss flexible solutions to address the identified pain points. The monkeys then created wireframes to help NUL visualize the layout & processes needed for the pages in the new main site.
Key elements required and identified from in depth Discovery & Planning:
COD (Conference on Demand) for Drupal Integration

Bakery SSO Integration

Responsive Design

Flexible content homepage with slider, 

Sponsors information, events schedule

Full schedule, Speaker schedule, Session track schedule

Live, interactive media gallery

Twitter Integration
Development
Working on a tight timeline, the Monkeys utilized the Drupal Conference Organization Distribution, or COD, to its fullest capacities on the Drupal 7 platform. The Monkeys harnessed this distribution by utilizing its many out-of-the-box features including its scheduling and sponsors functionality. The scheduling function made it easy for users to plan and register for events, dinners, speakers, and much more, without having to add any other modules or distributions. 
As sponsorship is a huge part of any conference, COD made this process significantly easier to do. This functionality gave the site the ability to create sponsorship types, display current sponsors, and attract new sponsors. 
Other tools, programs and technologies used in development:
Drupal

PHP

Mysql

Jquery 

Zurb foundation 
Win Win
National Urban League was very grateful that their site was launched on time, as the project was completed on an incredibly tight deadline. They were also very happy with the look & feel of the site, and how user friendly it was for both their visitors and administrators. Most importantly, they were thrilled with finally having their Annual Conference site be re-themeable and responsive. A big win for all!