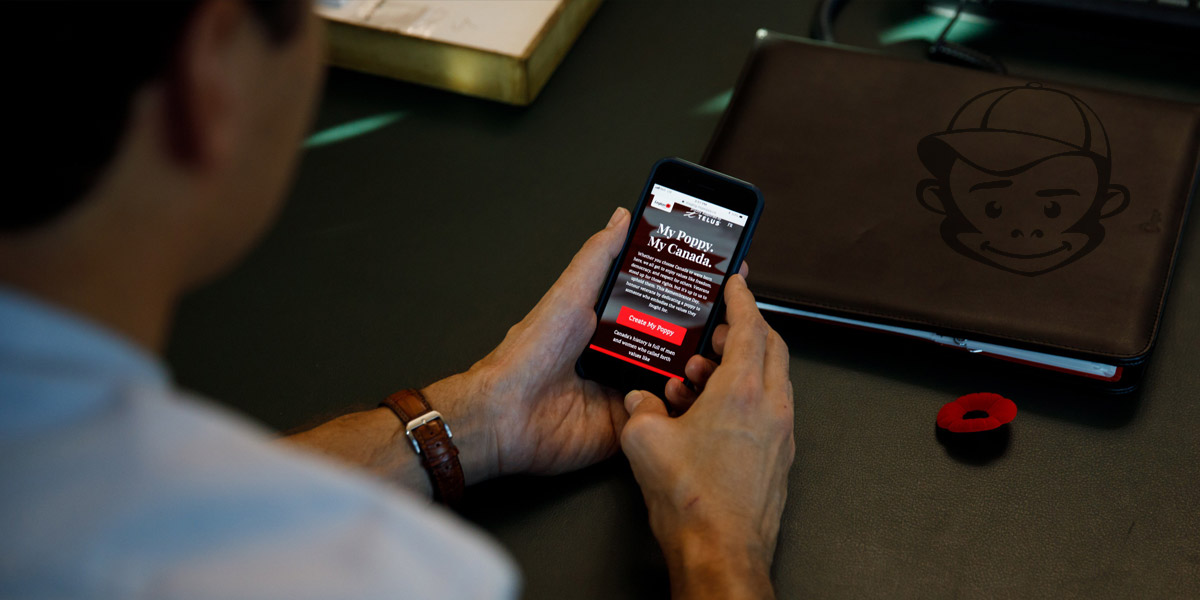 About MyPoppy
Founded in 1926, the Legion is Canada's largest non-profit Veteran support and community service organization. Every year, The Royal Canadian Legion conducts the Poppy campaign, along with thousands of their members who volunteer from coast to coast to coast, to raise funds in support of Veterans and their families. Your generous donations are invaluable.
Industry
Non-Profit
Website
Overview of Project
From the last Friday in October to Remembrance Day on November 11th, over 20 million Canadians wear a Poppy on their left lapel as a visual pledge to never forget those who sacrificed for our freedom.
The poppies are sold by The Royal Canadian Legion and these donations to the Poppy Fund are the major source of funding for Canada's military veterans. The digital poppy is seen as a new invigorating opportunity to reach larger audiences focused on the younger generation. The introduction of the digital Poppy provided the Legion a new approach to the annual national Poppy Campaign, modernizing the source of funding for the Legion.
The Legion in partnership with Basno, were set to create a new way to fundraise. The digital MyPoppy.ca platform allows users to provide online donations as well as create a poppy to dedicate it to a veteran.
The Challenge
Basno and the Legion wanted to create a new English and French web application to enable users to accept donations and seamlessly connect to Basno's platform to create their custom designed poppies in less than 1 month. 
The application would need to be desktop and mobile compatible while integrating with Basno's platform which allows users to share their finished custom poppies on social media. Further, the web application needed to accept donations using the bandora payment gateway as the payment processor.
Specifically, the new website needed to convert users to fill out a form to receive their digital poppy and to make a donation. 
The Solution
Cheeky Monkey Media worked closely with Critical Mass and Basno to outline the goals of the website and put together recommendations on development strategy. 
Recommendations from Cheeky Monkey Media included development done from the ground up, using custom code for integrations and for implementing designs that were supplied by Critical Mass. Upon execution of the development, Cheeky Monkey Media ensured the site was,
Mobile Responsive

English and French versions

Lightweight, fast and able to process high volumes of users through Basno's poppy creation platform and bandora's payment gateway without crashing

Search Engine Optimization (SEO) was set up properly

Anti-spam features on contact forms leveraging the honeypot anti-spam method
The site met its deadline and launched the week of October 26th, 2018. It was promoted heavily by DDB Canada and has been widely used by audiences every year from October 30th to November 11th including Prime Minister Justin Trudeau. 
#MyPoppy
THE TWEET from PM.