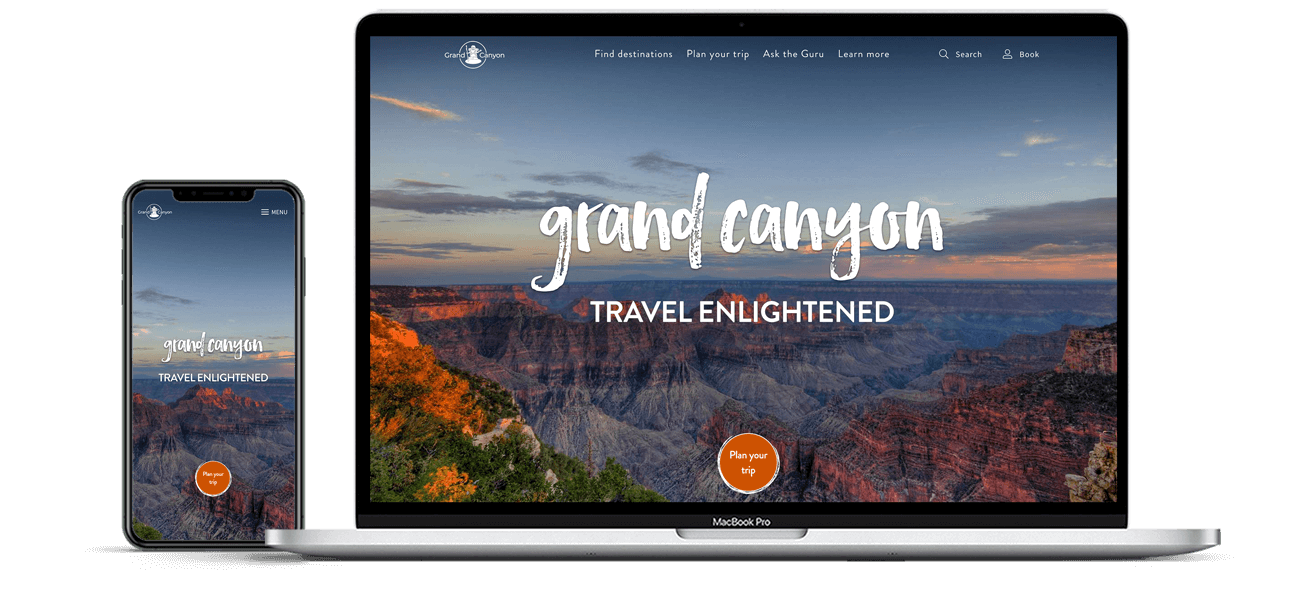 "Thank-you. Working with you and the team at CMM has been a game changer for my business and resulted in an 83% reduction of stress in my life!!!"
Robert Sewell
About
Grand Canyon Guru offers you the best Grand Canyon trip planning information for your next national park adventure. Founded by a former Grand Canyon backcountry ranger and a backpacking guide, Robert Sewell.
From the national park to the Skywalk, from Las Vegas to Lake Powell. The Guru will help you find the best tours, book the closest hotels, locate the most adventurous trails, or just learn more about what makes the Grand Canyon one of the world's best adventure destinations.
Industry
Tourism
Website
Overview of Project
Kaibab Media LLC set out to completely redesign their website https://grandcanyonguru.com/, keeping the Grand Canyon adventurer in mind. The newly rebuilt website was designed to be the best resource available for adventurers planning their trip to the Grand Canyon and surrounding areas.
The site includes detailed content, custom trip planning tools, a custom Grand Canyon area map, and other travel-related products/services.
Major Site Features:
In-depth relevant content
1000 plus listings for activities, attractions, services, lodging and area businesses
Interactive maps
Custom trip planning tool
Trip cost calculator
Free Grand Canyon eBook
Reservation and booking options
Articles and other Grand Canyon related media
With any newly built website, Robert wanted to ensure his investment was not gone to waste. Kaibab Media LLC reached out to Cheeky Monkey Media seeking a WebOps partnership to help them make more informed future site maintenance decisions.
The Challenge
Grand Canyon Guru needed to make minor to significant changes to their custom features. The partnership's goal was to consult on the website, recommending ways to increase page performance, load times, and mobile responsiveness.
Major Goals for future development:
Improve and build on current site functionality
Improved design and UX
Itinerary building tool to create user-generated content
Decoupled Drupal architecture
Hybrid App
Solution
Kaibab Media LLC came to Cheeky Monkey Media (CMM), looking to have an audit completed on their Drupal 8 website. The audit would review all aspects of the website, providing CMM with enough information to determine what recommendations might be made to make the website more secure, stable, and perform better.
The work would include, although not be limited to:
Evaluating the site, reviewing modules and themes
Searching for anything that may make supporting or maintaining the site harder going forward
Reviewing custom modules
Training
The audit would also help inform Kaibab Media LLC of any issues affecting the site
performance, stability, and security. A list of prioritized recommendations was created so that Kaibab Media LLC can address the most critical issues first.
After finishing up the audit and list of recommended items, CMM worked with Kaibab Media LLC to put together a development roadmap. Coming off of a fresh website build, Kaibab Media LLC had a limited budget to work within. CMM put together and prioritized a development roadmap, which was done through a discovery phase.
The Outcome
Collaborating with Robert Sewell, we were able to work through tasks in a timely manner, ensuring that tasks were aligned to Kaibab Media LLC's goals. Continuous iteration was the key to ensuring that https://grandcanyonguru.com's deliverables were met and functions were enhanced.
After work was completed, grandcanyonguru.com saw a significant performance improvement.
The homepage on both desktop and mobile saw a performance improvement of 10 to 12 points. The map functionality was the biggest target for improvement. The map was ranked at 14 in performance after work was completed, saw a jump of 43 points.
Cheeky Monkey Media worked in collaboration with Kiabab Media LLC, significantly improved performance and meeting the outlined goals.