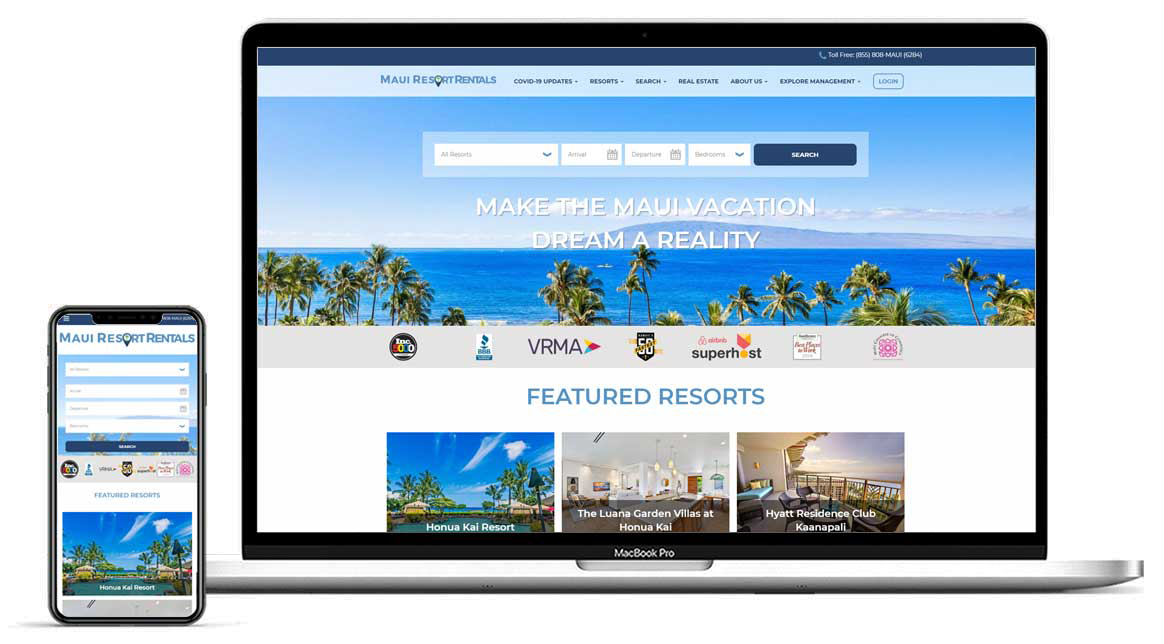 About
Maui Resort Rentals has been helping vacationers "Make Maui Reality" for over 50 cumulative years. They are the fastest-growing vacation rental company in Hawaii because they know that the first step to creating awesome vacation experiences is to create an abundance of aloha within their team.
Industry: Tourism
Issue
Maui Resort Rentals (MRR) reached out to Cheeky Monkey Media (CMM) with a number of improvements that they wanted to be incorporated into their site. Enhancements focused on:
Content and design updates for Resort, Detail, and Listing pages
Homepage included improvements to their featured rentals functionality
The global header needed to be restyled and enhanced for mobile users
Property management lead forms, impro
The site and image speed needed to be improved.
Solution
CMM reviewed the list of issues and recommended that a website redesign take place. As most of the enhancements had to do with User Experience (UX), it made sense to offer a redesign as a solution.
A new design offered MRR a new clean theme and code. This was a more effective and efficient solution than changing, adding, or fixing the original code, and it provided improvements to site performance.
Consistent branding, compelling visuals, intuitive navigation, and concise messaging were keys to ensure success. The new designs ensured fewer obstacles to conversion as customers shopped for rental listings to suit their requirements. CMM used best practices for design and UX, allowing for the site to be launched initially to a set of MRR's actual users. With post-launch data gathered from real user feedback, CMM continued to optimize the site for best practices and solutions that enhanced the overall website user experience.
CMM ensured the site design was:
Easy and intuitive
Clean and focused
Visually pleasing
Responsive
Quick to load and operate