Jobs for the Future – Pathways to Prosperity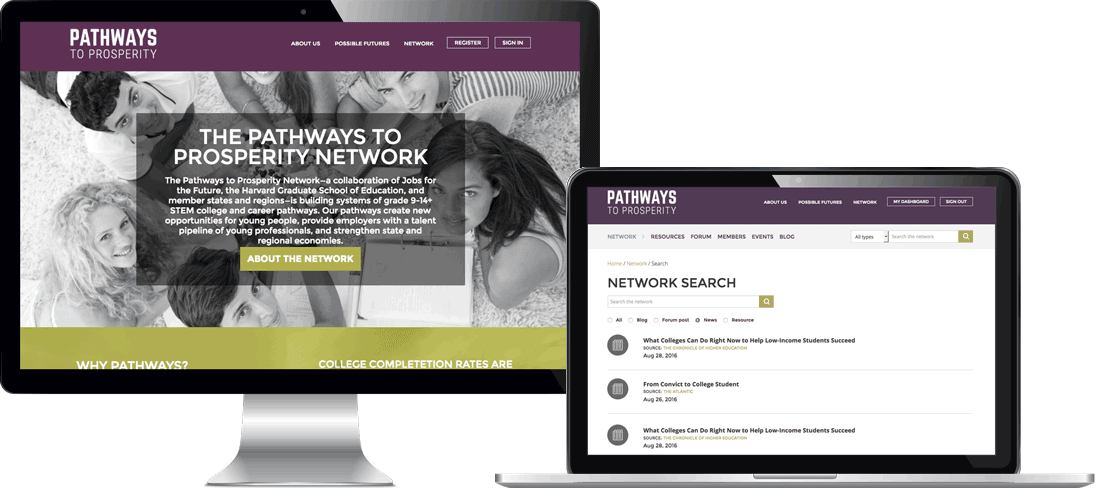 The Situation
Jobs for the Future (JFF) is a national nonprofit that works to ensure educational and economic opportunity for all. They develop innovative career pathways, educational resources, and public policies that increase college readiness and career success, which helps to build a more highly skilled workforce. With over 30 years of experience, JFF is the national leader in bridging education and the workforce to increase mobility and strengthen the economy.
The Pathways to Prosperity Network—a collaboration of states and regions, Jobs for the Future, and the Harvard Graduate School of Education—seek to ensure that many more youth complete high school, attain postsecondary credentials with currency in the labor market, and launch careers while leaving open the prospect of further education.

JFF was looking to launch a community website built on the Drupal CMS platform for the Pathways to Prosperity Network that would add value to Network members (stakeholders from K-12 education, community colleges, business and industry (employers, Chambers of Commerce, and employer associations), workforce, economic development agencies, and state agencies (Departments of Education, higher education systems, and Departments of Labor)). Members are challenged  by being spread across 12 states in the continental US. Having a community website would keep them connected and allow them to ask questions, share resources, stories, and experiences and insights. A community site would also help members in their work towards designing and implementing better integrated career pathway programs for students.
The Solution
Strategy
Knowing there was a lot to get done with a limited budget, the monkey's defined a clearer understanding of the scope, features and functionality by mapping out virtually every screen on the site and it's job within the experience during our Discovery phase. This "flow chart" was reviewed with the client on a weekly basis and became more detailed after each iteration until the relevant information was defined so the technical planning could begin. With effective planning concluded, the design and development could be implemented much more accurately and efficiently, saving valuable budget dollars.
Design
The main goal for the website design was to make the experience appear youthful and fresh as to represent the youth that the project strove to help. The design needed to be professional and user friendly while also appealing to adults from all demographics within the network (teachers, policy makers etc..) as they would be the primary users of the site.
Development
There were the specific parts of this Drupal project that required some conceptual thinking and imagination from our development team in order to arrive at the right solution. One of these was the way the resource repository tags and/or filters. This was special, particularly getting the functionality right in order to provide a good user experience for filtering. We used a hierarchy of unique tags for both desktop and mobile.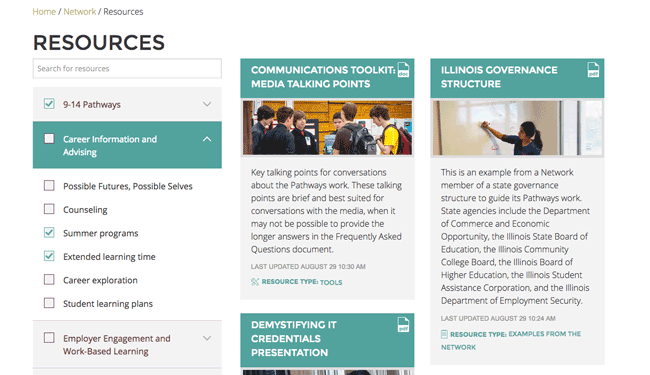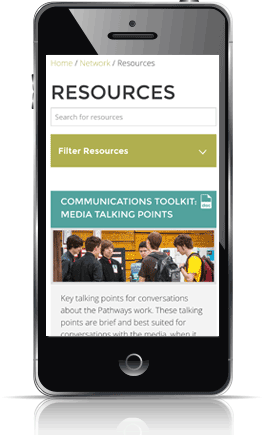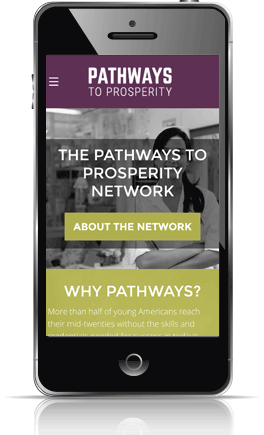 Working for WOWs
The biggest "Wow" we received on this project was how pleasantly surprised our client was with how easy it was to work with us remotely. JFF is based out of Boston, MA (USA) and Cheeky Monkey is based out of Kelowna, BC (Canada). East coast meets West coast. Initially, JFF was concerned about our time zone differences and the vast miles in between, but we quickly laid those fears to rest.
"Wow - we can't believe how easy it is working with you! It's easier working with you on the other side of the continent than it is working with local partners" - Charlotte Cahill