TRI – Family Resource Center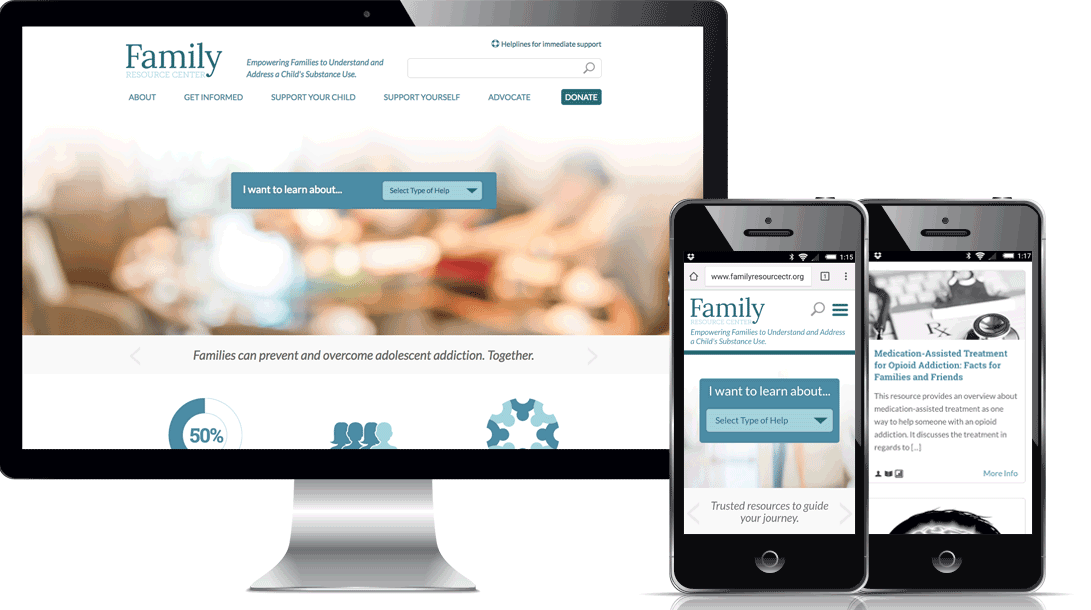 The Situation
The Treatment Research Institute (TRI) is an independent, not-for-profit organization dedicated to translating research into improved policies and programs to address the devastating effects of substance abuse on families, schools, businesses, criminal justice, and healthcare.
Through TRI's Parents Translational Research Center (PTRC), which is funded by the National Institute on Drug Abuse (NIDA), the TRI team conducts research and develops tools and resources to meet the specific needs of parents and caregivers of adolescents struggling with substance use.
While TRI was proud of the PTRC's many contributions, they are also acutely aware that they had merely scratched the surface of what is needed. The information that existed to guide parents was still insufficient. Not only are there simply not enough high-quality resources to support families to better address emerging substance use problems, there is no easy way for parents to identify the ones that do exist and to know which ones to trust.
Thus, TRI needed to create a site dedicated to presenting resources that are backed by various degrees of scientific support and come from the most notable, national sources. This website needed to extend the efforts of the PTRC and provide evidence-based knowledge, credible resources, skills and practical tools to help families prevent, intervene early, find treatment and/or support recovery for adolescents dealing with a substance use problem. Cheeky Monkey fell in love with the organization and its goals and was eager to help out.
The TRI also wanted to implement an aesthetically calming website that considered the stress levels of the ultimate end user(s). Finally, to ensure a seamless user experience, the website also needed to include the following key elements:
Homepage & Mobile Design
Mobile Responsiveness
Built-in Search
Results Page (sleek & visually appealing display rather than just text results)
Multitab Contact Page
Another key aspect was budget: being a not-for-profit, TRI wanted the website to be cost effective ensuring their budget was not wasted.
The Solution
Strategy
A very thorough Discovery was initiated between the TRI team and the Monkeys to help establish relevant features and functions that fit into the budget and project scope. The extra effort put into this phase was integral to saving time and precious budget dollars towards development and implementation of important project goals.
Through open and frequent communication, the TRI team and the Monkeys established an efficient workflow and an evolved sitemap that allowed for better sharing of ideas and thoughts.
Development
The Cheeky Production team went to work using the WordPress Content Management System. With WordPress being an easy to administer, easy to navigate, scalable and cost effective system, it was the perfect solution for this project.
The WordPress CMS was also great for our production team as it provided a smooth development environment for a mobile-responsive design with maximum user experience across all devices. Our production team created custom features for the website that included:
Desktop and Mobile Design
New site theme for all devices
Appropriate categorization for content
Built search filtering into category pages of content
Full search page
Advocacy widget that connects to legislator api to get local legislator's contact info
Multi-tab Contact form for different user profiles
Tools Used
WordPress
Jquery
PHP
Bootstrap
Sunlight API integration
The Happy Ending
After extensive testing of the new site for quality control, usability and functionality, we were ready for launch. TRI was thrilled with their new aesthetically pleasing, 'relaxed' look website. With the intricate functionality working like a charm, TRI could elevate their reach and resources to the world's troubled youth and their families.