Budget Coding & Friendly Design – Cathi Shaw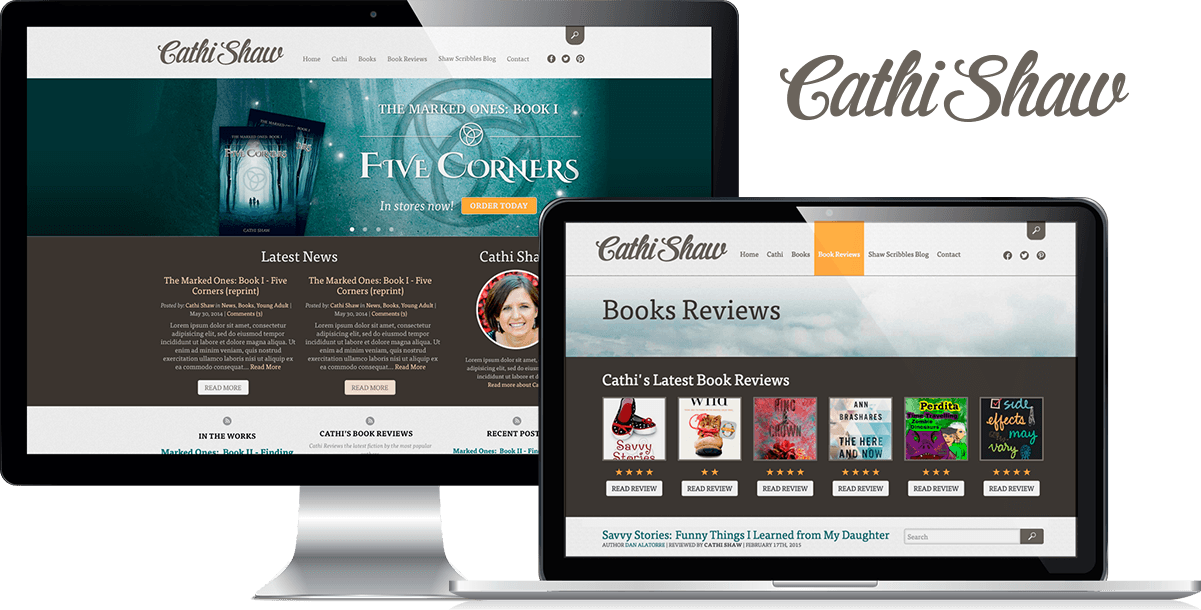 The Situation
Dr. Cathi Shaw is a higher education teacher and published author who required a complete redesign of her existing website. She also required upgraded content management modules, improved social media links, and dedicated landing pages to promote her current and upcoming novels. The client also needed improved SEO and the rebranding of her site from Shaw Scribbles to Cathi Shaw. Phase 2 of this project was the design of her first book cover for The Marked Ones book series.
The biggest hurdle in starting this project was figuring out which CMS to use, as this site was a perfect candidate for either Drupal or WordPress. With the discovery of some helpful plugins, and the consideration of budget, WordPress became the obvious choice.
The client had a lot of vision for this project, so much of the breakdown was already completed for the Monkeys. We knew we needed to categorize her different published books, and create a place for her book reviews, while incorporating some kind of ratings system.
The Solution
With WordPress as the platform, our web Monkey integrated a handful of plugins to simplify the process and meet budget constraints. For example, we used Book Review Library to handle the book review functionality and Easy Testimonials to make writing and submitting testimonials easy.
Normally, the ability to make different good content types (i.e. book reviews, testimonials, etc) requires a lot of customization. However, the Custom Content Type Manager proved to be an excellent solution. It makes it easy get more content types on the User Interface (UI).
To make it easy for users to find the website we integrated a great WordPress SEO plugin and a Simple Share Buttons Adder, that makes it easy to add sharing icons, which means users can quickly share content they like. And, since security is always an important consideration, we integrated the Akismet plug in for spam protection.
That's not all though...
Our talented creative team had a lot of fun with this project. We had the opportunity to provide more than just a stunning site design, we were called on to create art for the series covers. With masterful illustrations, the creative team delivered imagery that rivalled the imagination behind the prose.
By working with the client, immersing ourselves in her vision, and integrating some of our favorite, proven WordPress plugins, we were able to make Cathi Shaw's vision a reality. We can't wait for the next series!