Inspired Creativity – DrupalCon Los Angeles 2015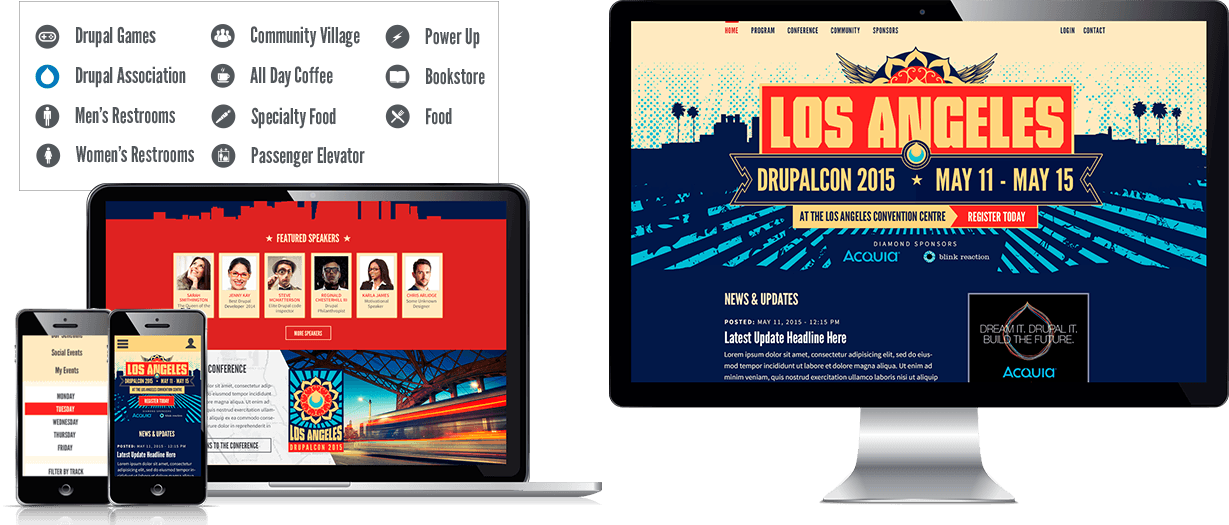 The Situation
It's a glorious situation when a client is so happy with the Monkeys that they ask us to be part of another project. It's even more fun when you're able to follow up a development heavy project with one that allows the creative design team to show off their talents.
On the heels of the Drupal Job Boards project, the Drupal Association again turned to Cheeky Monkey Media to help design the branding for the 2015 North American DrupalCon in Los Angeles. Having already impressed with pure development and programming skill, the Monkeys were more than excited to showcase their creative talent as the designer for one of the largest Drupal events of the year.
The Solution
As the Drupal Association was focused on ensuring the success of DrupalCon Amsterdam, the creative design team was eager to begin initial concept development. Upon selection as the partner of choice, the Cheeky Monkey team dedicated significant time and energy to brainstorming potential themes, logos, and colors. By taking steps in advance, the Monkeys ensured that the project could really catch fire when Association staff were finally able to catch their breath.
Of course, when you're entire corporate culture is dedicated to pushing the limits and stretching the boundaries, it was important to the team that the designs not fall back on standard Hollywood clichés and show-biz fare that Los Angeles has come to be known for.
With several concepts and ideas to sort through, and the close collaboration of both enthusiastic teams, the decision was made to take the designs in a direction that owed its inspiration to the art of Shepard Fairey, and his propaganda/street art stylings. With a bright color palette that allowed for intensely eye-catching designs, and the seriously ingenious skill of Chris Arlidge (Cheeky Monkey Media's Creative Director), the logo, site design, and signage for DrupalCon Los Angeles was born.