We are so thrilled - SO THRILLED! - to be working with Cheeky again on our next project!
RACHEL FRIESEN, EVENTS MANAGER, DRUPAL ASSOCIATION
Converting your Audience into Customers
We believe graphic design is all about getting your message across clearly and with a "Wow!" thrown in for good measure. Graphic design is the fine art of visual communication. Graphic design is also about problem solving, and we like that. It's a challenge we are always prepared to take on. We are more than just great Drupal Web developers, have a look at what we can do:
Graphic design will save the world... right after rock and roll does.
David Carson
Graphic design is important, and maybe it can save the world... so let's look how we can use it to help you reach your audience and achieve your business's vision.
We Help Build and Support your Brand
Our graphic design monkeys are experienced in a wide variety of disciplines (including print design, logo design, and web design). Flinging pixels is our speciality. In short, can help manage your brand through consistent, quality design.
Graphic design is a broad category but here are just some of things we can do for you:
Information Design (Infographics)
Collateral Design (fancy term for things like, business cards, brochures, sell sheets, and any other customer touch points)
Way-finding (directional signs, maps)
Want to see what we've done? Start by exploring how we helped the Drupal Association with DrupalCon Los Angeles
Anecdotally, on the design work, we've gotten a lot of positive feedback at each of the convention locations. It's a community-driven process, so the community actually gets to weigh in on the designs, and the feedback has always been amazingly positive.
Josh Mitchell, CTO, Drupal Association (Drupal Non-Profit)
Custom Website Design
Template solutions can work for some companies, especially when budget, time, or simplicity are factors. For everything else, custom design solutions are the answer.
Custom designs will properly represent your brand, and be able to accommodate special features and functions that you may require. Simply put, you will not be limited as to what you can do.
If this is the case for you, this is when you need to talk to a website designer and/or graphic designer. Luckily our creative team excels at both. When we create a custom website design for you, we:
Listen to you and what you are envisioning, and research what your audience needs and expects (we are after all designing for them right?).
We will review any design materials orstyle guidelines you may currently have. We aim to keep you on brand, and looking great.
We use a number of tools to design your site. Adobe Photoshop and Sketch are examples.
We use InvisionApp to show you the designs, which allows open communication with on screen comments. After feedback is gathered we revise until we are all happy.
Anecdotally, on the design work, we've gotten a lot of positive feedback at each of the convention locations. It's a community-driven process, so the community actually gets to weigh in on the designs, and the feedback has always been amazingly positive.
Mitchell, CTO, Drupal Association (Drupal Non-Profit)
We told them the things we wanted to keep and asked for their input. We gave them a lot of creative freedom. It was very collaborative and a great way to work.
Denny Thompson, Co-Owner, Trenchant Business Evolution (IT Company)
Responsive Web Design
Today you can't have a web property that isn't responsive. If your website isn't mobile friendly Google won't like you as much, and even more importantly… your visitor will become frustrated and more than likely abandon their visit to the site. Not good. Responsive web design is standard in our development process, and you can learn more about what we do on our Responsive Web Design services page.
User Experience Design
A good website looks ok and gives your audience the information they're looking for. A great website tells your organization's story and feels intuitive to your user. In case you were wondering, we only make great websites.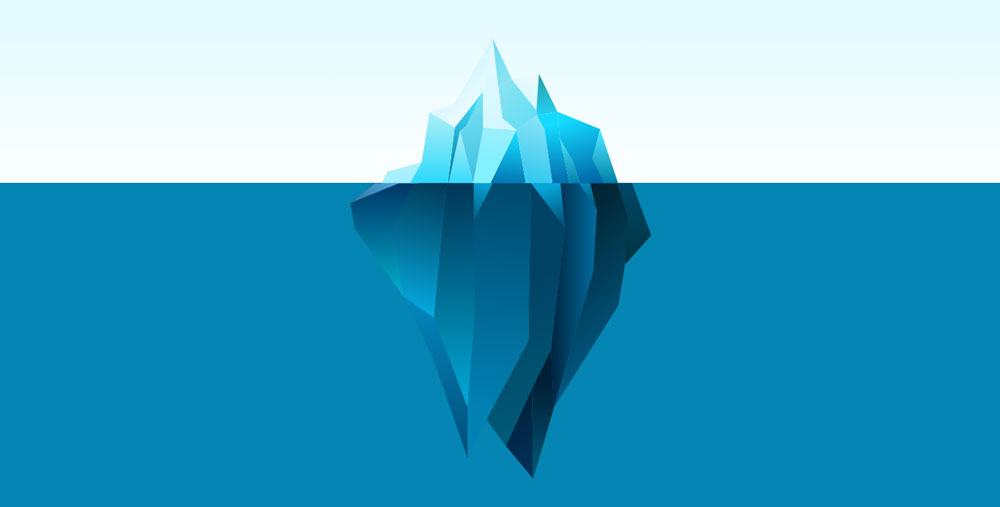 There is More to a Great User Experience (UX) than Meets the Eye
Think of UX as an iceberg. On the surface, you see a website that you can interact with. Below the water you have all the other 'stuff' that goes into making that great experience happen. User research, tons of code, all of the systems you're using, and measurable metrics for how visitors are using your site, just to name a few.
A user experience designer, brings together:
your organization's goals
your goals for the website
what your user expects to accomplish
and creates an engaging visual that invites the user to explore further.
Need another way of thinking about UX? Our Marketing Gorilla Spela and our Creative Director Chris take a stab at breaking it down in this blog post.
Good UX Design can't Exist without User Research
If you don't know your user, how can you possibly build a positive User Experience. This is where we come in.
We help you create and map-out your website's goal: A goal is essential for your website (even if you know this goal will change over time), there will be no direction or purpose for your website. How will your users know what to do when they get to your website, if you don't even know what you would like them to do?
We do the work and tell you what your user is looking for: When you don't get to know your users, it's very difficult to communicate with them they would they like to be communicated with. This is a problem because if your website doesn't speak to the user, the user will not want to spend time on the website. A user that doesn't want to spend any time on your website will not complete the goals you've set.
We help you craft and present a message that speaks to your audience: You need to take the time to think through and create an engaging design and graphics that communicate your message in a way that your audience understands. If this isn't done well, your website won't mean anything to your user and your website will become just another piece of noise.
We test your website design to make sure it's working as well as it can: This can be an ongoing process that we can help you with, making fine-tuned adjustments to constantly improve your site. This is why Amazon is such a great user experience as an example: they've put in the research and created a user interface that they are continuously testing and improving upon.
Logo Design

First Impressions Make a Lasting Impression
Designing an effective logo for your business can be a daunting task, and it doesn't help that the waters are polluted with innumerable free or bargain logo design services. Logo design is a serious (but we think fun) process that requires a great deal of thought, and research.
Your logo is a representative of your company, and will play an important part in your brand. Sometimes it's the first thing a potential customer will see, and you want to make it memorable. We have the design team that has many years of logo design experience in a wide variety of industries.
Our Logo Design Process
Our logo design process has been refined over many years of practice, and we will ensure that the logo and identity we craft for you will be a highly effective piece in your company's branding.
Here's a basic outline of our logo design process:
Explore/Discovery - We talk to you, learn your story and delve into who your audience and customers are, at the end of the day the logo has to work for them and be the beginning of a great brand experience.
Sketches - we do a number of thumbnail sketches to work out as many permutations as we can before moving to a higher fidelity sample
Initial Concepts - After we cherry pick the stronger concepts from our rough sketch phase we build them out to a more finished version
Client Presentation - You are shown your logos, and we discuss our thoughts behind the designs and how they relate to your company, and audience.
Revisions - At this stage we will make some revisions to the final candidate logo based on objective feedback
Final Presentation - The final logo is presented in all its glory, and versions - even shown in example signage, and collateral as the situation warrants.
Style Guide - We create a multipage document that outlines proper logo usage, typography, colour palette (Pantone Colours, CMYK, RGB and web versions). Depending on requirements this document can be simple or very in depth.
Bring Your Presence into the Present
Maybe your logo has been around for a long time, and wasn't designed with longevity in mind. So it now looks outdated, or worse, unprofessional. Sometimes, a logo can be saved, with small tweaks, or a minor makeover. You have spent a great deal of time building your brand, and like it or not that logo may be a part of that, so we don't always have to pull a 180 and design a new logo.
Our designers will breath some new life into your logo, and supply you with a modern version with all the trimmings, and necessary file formats. We can also create a style or brand guide, if you don't have one (these are helpful if you use a lot of third party vendors that may have to use your logo).
The way Cheeky Monkey Media was able to brand our company was great... Because they broke this project up into pieces, we didn't have to go back and change anything. There are no surprises during the project.
Jen Finlay, COO, Inside Track Canada (Automotive Company)