Souls Grown Deep Foundation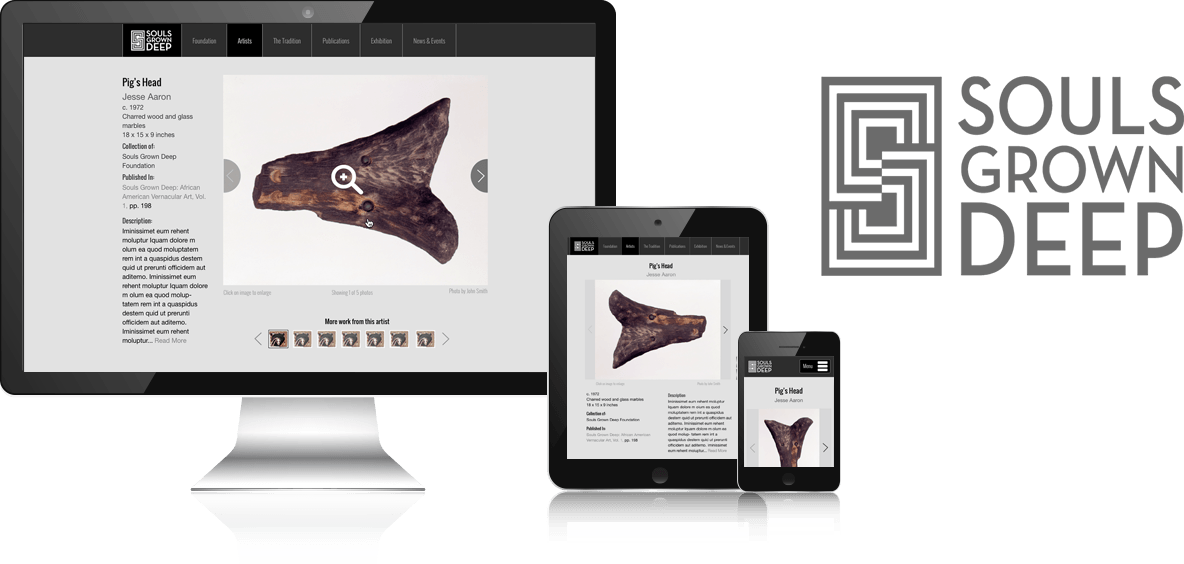 About 
Souls Grown Deep Foundation is dedicated to documenting, preserving, and promoting the contributions of African American artists from the South, and the cultural traditions in which they are rooted. They advance their mission by advocating the contributions of these artists in the canon of American art history, accomplished through collection transfers, scholarship, exhibitions, education, public programs, and publications. The Foundation derives its name from a 1921 poem by Langston Hughes (1902-67) titled The Negro Speaks of Rivers, the last line of which is "My soul has grown deep like the rivers."
The Partnership
Souls Grown Deep needed a secure, accessible, and reliable website. As a major hub to preserve and showcase the art and culture of their artists, Souls Grown Deep started working with Cheeky Monkey in 2017 to enhance the overall digital experience.
Design, Design, Design
With art, there's usually far more below the surface than what a person can see. Focusing on the culture and history behind the work, the website needed to ensure an engaging user experience, and also an exceptional showcase for the paintings, sculptures, and expressions on display. The design needed to be eye-catching to complement the art, while the pages needed to be structured in a manner that melded both image and text content thoughtfully.
Having had this project in the planning stages for an extended time, Souls Grown Deep was anxious to get started. They were very happy to be working with the Cheeky Monkey Media team on a culturally significant web project.
Though technically complex, the Souls Grown Deep website was quite likely one of the most intensive creative design ventures for the Cheeky Monkey Media crew. With plenty of imagery and the need to provide a quality exhibit, the creative team needed to put their talent and skills to the test in order to craft the right aesthetic. Not only did the site need to look great, it also needed to be presentable on multiple screen sizes, resolutions, and devices.
If Cheeky Monkey Media wasn't up for challenges, we couldn't brag about being Web Adventure leaders! Working from foundational work performed previously, the creative team implemented changes, made improvements, and modified elements to create a stunning design that displays well, no matter if the audience is browsing on desktop, laptop, tablet or mobile phone.
Incorporating a highly variable set of images and art into the design was challenging. But by expanding the toolkit to include new grid styles, and themes (even front-end coding frameworks) the team was able to overcome the hurdles enroute to producing a theme that supported Souls Grown Deep, and emphasized the strength and skill of the Cheeky Monkey Media design crew.
Typography & Palette Examples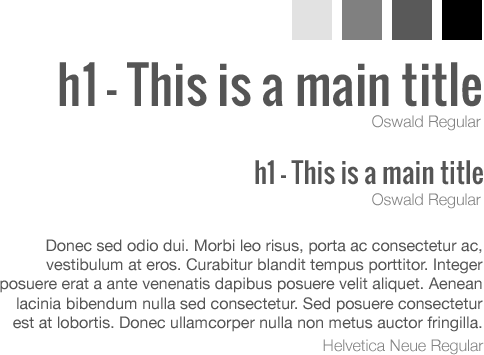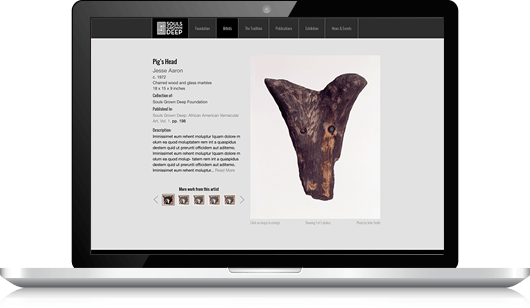 Migration
With the announcement of Drupal 7 end-of-life (coming Fall 2022), Souls Grown Deep wanted to stay ahead of the curve. In late 2020, they worked with Cheeky Monkey Media on a strategy to migrate the site from D7 to D9. Over the course of a few weeks, Cheeky Monkey Media migrated the site from Drupal 7 to 8 (a strategic decision for efficiency sake), and then onto Drupal 9 – all while performing other site enhancements along the way.
The biggest change was made to accessibility. Through the migration process, Cheeky Monkey Media made modifications to meet the Web Content Accessibility Guidelines (WCAG) 2.0. This made the Souls Grown Deep site accessible to people with a range of disabilities – blindness, low vision, deafness, hearing loss, learning disabilities, and more.
Not only was Cheeky Monkey Media able to make the website accessible, the process allowed Souls Grown Deep to take better advantage of features that had been provided in Drupal 8 and enhanced in Drupal 9. With mobile users increasing year by year, it has become more and more important to ensure the best mobile experience. While Drupal 8 had more than 200 features and enhancements in this direction, Drupal 9 development managed to enhance support for responsive images and graphics. Through the advances in the platform, device specific images and graphics can be displayed.