Enhancing the Brand – AggData
We have greatly enjoyed working with Cheeky Monkey over the last 3 years. They are truly a one-stop shop for everything Drupal: design, development, support, marketing, and more. We even had them come in and clean up after a project went bad with a higher-profile, more expensive firm. I know that if I ask them to help with something they will make sure it gets done and done right, which is all you really want from a partner. And it doesn't hurt that they are super great people as well.

~ CHRIS HATHAWAY, CEO, AGGDATA LLC (INFORMATION SERVICES FIRM)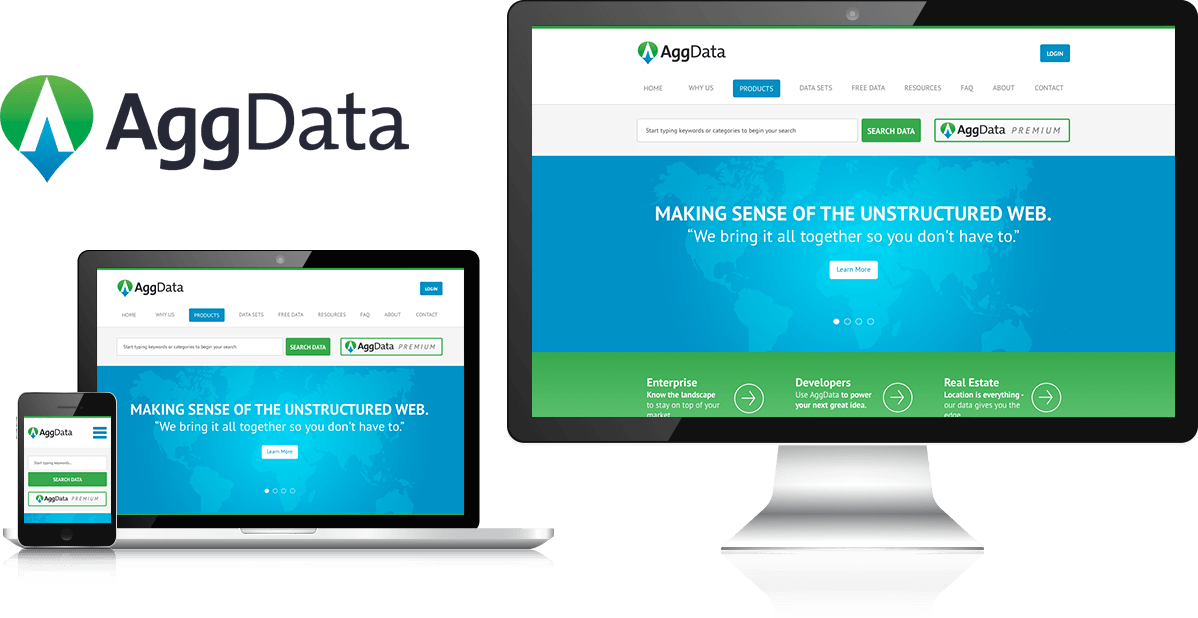 The Situation
AggData wanted a new visual identity and improved website performance. They hired the monkeys to:
Enhance AggData's visual identity - logo, branding, and promotion - to help reposition them as leaders in the industry.
Empower AggData's website to serve as an advanced marketing board by making it responsive and easy to use.
The new identity had two requirements. First, the new visual identity had to correspond with the company's goals and culture. Second, the identity had to convey a more inspiring and memorable brand essence that AggData could leverage for future growth.
The redesigned website needed to work seamlessly on mobile. It also needed to make it easier for clients to find and buy AggData products.
The Solution
Enhancing a brand's visual identity and redesigning their website is not a small task. Our team started by defining AggData's main audiences and relevant keywords. Then, we dug deep into AggData's mission and vision statements to make sure we had a solid grasp of the tone and style that best represented AggData's brand identity. We used this information to create an appealing visual design and develop clear and engaging website copy.
From there, we mapped out the pathways website visitors take when browsing the website. Using this information, we designed the website's Information Architecture to organize content and information for easy accessibility and an optimal user experience.
Following the launch of AggData's newly redesigned website:
Website traffic increased by 29%*
Bounce rates on selling pages decreased by 25%*
and
Total number of website downloads increased by 73%.*
It's also worth noting, since we were looking at improving the website's ability to respond to different screen sizes, that total mobile and tablet downloads from the website increased by a whopping 183%*!
*When compared to the same time period the year before the new website launched.
Like AggData, we're thrilled with these results!
Typography & Palette Examples