Canadian Men's Health Foundation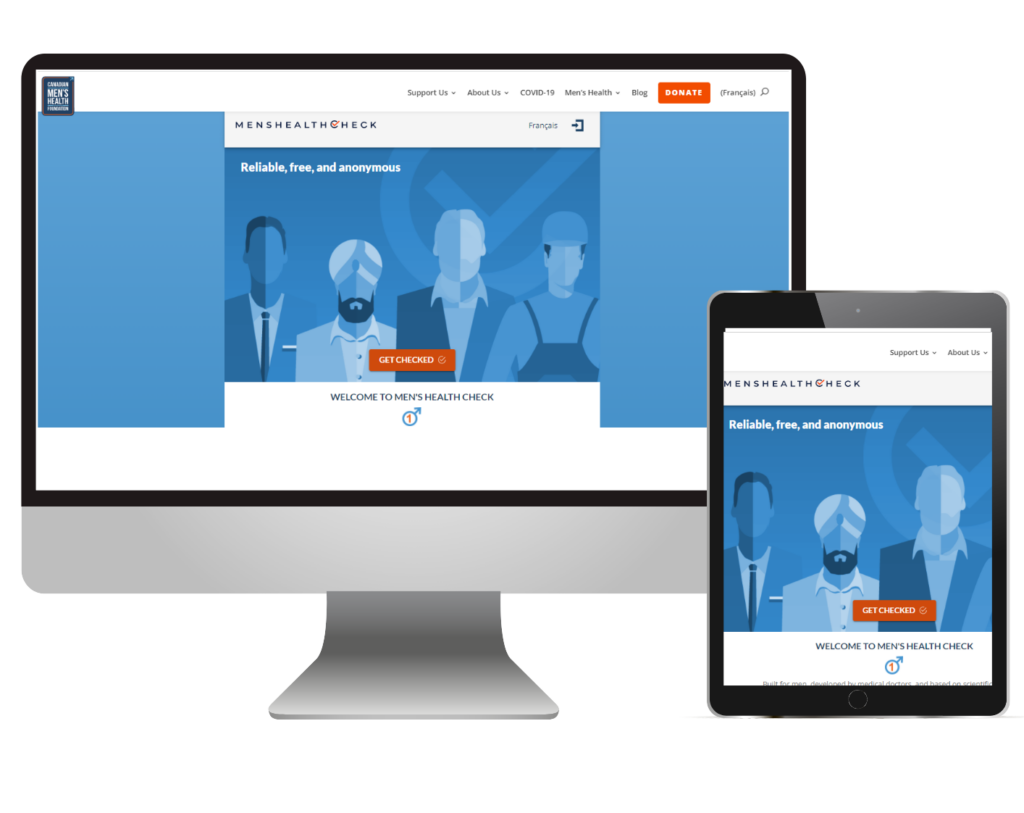 About Canadian Men's Health Foundation
Canadian Men's Health Foundation (CMHF) is a national, nonprofit organization with a mission to inspire Canadian men and their families to live healthier lives. The statistics around men's health in Canada are alarming; 70% of men's health problems can be prevented by adopting healthy lifestyles. Learn more at MensHealthFoundation.ca and DontChangeMuch.ca.
Project Overview
About Men's Health Check
In partnership with the BC Government, Men's Health Check is a free, confidential tool built for men to help them gain awareness about their health. It is designed to highlight potential health risk areas and provide resources to help men better understand how they can take control of their health.
The challenge was modernizing the YouCheck application so we could meet men where they were at with new technology. Our goal was an evergreen tool that could last for the next 5+ years and Cheeky Monkey delivered. Their team was always responsive in all our communications; it's a pleasure to know they are just as quick to pick up the phone versus hiding behind emails. Cheeky Monkey dove into the development of the React app and our high expectations, and not only did they technically pull it off, they kept the project within budget.
- Gene Bernier, CMHF CTO
The updated Men's Health Check tool needed to meet the following requirements:
Support both English and French

Easily managed by the Canadian Men's Health Foundation

Deliver the same results or better as the current tool

Updated and modern design
Two-thirds of all Men's Health Check traffic came from mobile devices, requiring a mobile-first design process.
Challenges
User Experience
The Men's Health Check assessment tool ran slow on both mobile and web, negatively affecting the overall user experience. To encourage users to complete the assessment tool and get the information they need, users should be able to complete the assessment quickly, meaning 10 minutes or less.
The challenge was modernizing the application so CMHF could meet men where they were at with new technology.
Outdated Software
Being created in Ruby on Rails, the existing application was difficult to manage and make improvements cost-effectively. Future updates would require a developer to make changes directly in the code. The tool was also 6 years old, therefore regardless of the code base, the tool required rebuilding rather than making updates to existing code and design. CMHF needed a platform that would grow with them over time, and the old platform had reached its capacity.
The Outcome
Collaborating with Gene Bernier, CMHF's CTO, Cheeky Monkey was able to work through tasks quickly, ensuring that tasks were aligned to CMHF's goals. Continuous iteration was the key to ensuring that the Men's Health Check's deliverables were met and functions were enhanced to meet the goals of Canadian Men's Health Foundation.
Results
We Can Rebuild Him
The new Men's Health Check assessment tool was built on a Drupal 9 backend with a headless React SPA frontend, and included a bilingual functionality. What's significant about the tool is that by doing headless development of the frontend, it makes it far less restrictive for the future. It potentially opens up many different options just by having a different backend platform from the frontend.
In monkey terms - it provides greater flexibility, more compatibility with other frontend frameworks, extremely scalable, not to mention simpler to implement and build.
The Drupal backend also made it easier to build the features and functionality required in the tool, but the React front-end allows the app to be far more appropriate for mobile devices and use.
Improved User Experience
Along with an updated mobile-first design, improvements were made to the user experience for both the admins and end-users, allowing users to complete the assessment quickly.
Over the initial 5 days at launch, over 166 men engaged with the assessment and a consistent
engagement of visitors since.