Aircraft Technologies Group – ATG / Aviation Networx
The Situation
Aircraft Technologies Group (ATG) has a passion for aviation and ensuring aircraft are maintained by seasoned, professional and passionate technicians. ATG has been providing technicians to the aerospace industry for years, but they are more than just an employment agency. They pride themself on being able to bring the best in the industry to their customers through their thorough and intensive recruiting, screening and testing process. This focus allows ATG to have an extensive network of qualified technicians ready to work where and when they are needed.
As ATG continued to grow their technician and customer base, they realized they needed more than Email, Excel and Access to be able to effectively keep on top of all their jobs, customer requests, and communications through all avenues of their business. They realized they needed to have an application built to handle all of their needs and that an off the shelf wasn't going to be up to the standards they had built their company on. After working with a number of other agencies, they found Cheeky Monkey Media and together they began to draft up a solution to fit their needs.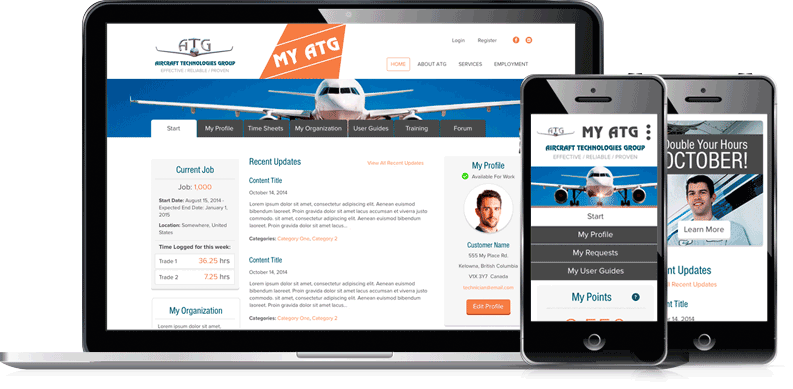 The Solution
The solution which ATG has today wasn't an out of the box fix, and we all were aware of how this would affect the timeline of the process going in. When working with a customer who has specific and custom needs, there can not be enough emphasis put on the planning process. Before we can build anything we need to sit down together to discuss all the pieces and workflows which are necessary to support their business. *CAVEAT* We tell all our clients up front (no matter how long we spend on this part of the process), new things will come out during the development and user acceptance testing portions.
We started the process by doing a mind map exercise to be able to see all of the components, roles, actions and sections their application would require. Once we had our high level concepts in place, we produced an interactive prototype which allowed ATG to click through the application and show it to important stakeholders before there was a single line of code written. By using the prototype as our minimal viable product, we were able to pivot very quickly and for a much lower investment of time than if we waited for the development cycle being completed.
Once we all had an understanding of what the systems would look like and how they would work, we were able to break it all down into deliverable releases. When it's time to start building the solution, we work in two week sprints which ensured ATG knew what was being built and could use it. During the project there was numerous sprints which allowed us to continuously release new features, which means clients can start to get a return on their investment much quicker than waiting until the end of the project to see it.
The prototype proved invaluable when, in the early stages of development, ATG's old site went offline and they couldn't get it back. Due to our processes and high level overviews, Cheeky had their new front-facing site deployed in a very short period time. This allowed for the least amount of disruption to ATG's business as possible. A win for all.
The end solution provides the ability for the ATG team to scale their company and also provides the tools their technicians and customers need to get their work done.
Clutch.co Review

"I've been to Cheeky Monkey's office, which is very warm and inviting. They're all knowledgeable and extremely friendly, but always professional. They get back to me right away when I have an issue and are just great people."

Tammy Cook