A.D. Hennick & Associates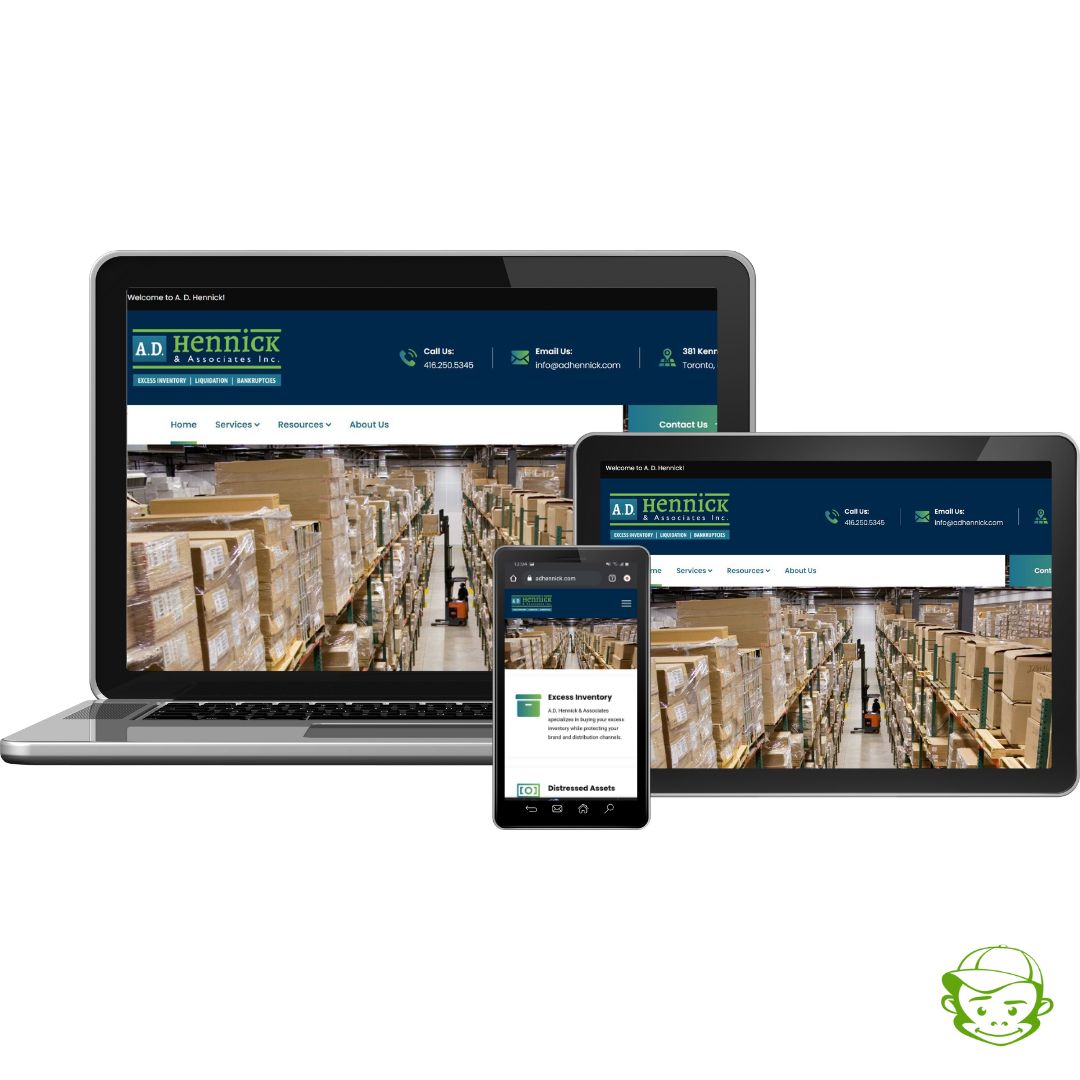 About A.D. Hennick and Associates
Over the last 12 years. A.D. Hennick and Associates has built the capital and buyer relationships it needs to thrive. They're an energetic team of liquidation experts, developing innovative client solutions to excess inventory and distressed asset issues, while protecting brands and maximizing value as quickly as possible. No wonder they made Canada's Fastest Growing Companies in 2020. Their mission is to assist manufacturers, distributors, and bankruptcy trustees in buying and selling large quantities of excess inventory, cancelled orders, and distressed assets. As a wholesale and distribution partner, A.D. Hennick has a high level of dedication to customer satisfaction, and has an unwavering commitment to honesty, integrity, and unsurpassed client service. 
Project Overview 
A.D. Hennick and Associates was in need of an updated website that would increase interest, confidence, and the approachability of the company. They were also interested in consulting with Cheeky Monkey to develop informed content and increase their LinkedIn and Facebook presence as part of their overall online strategy.
Unique Challenges
Many of the businesses that require A.D. Hennick's services have never had to reach out for assistance before, and do not know how to find the right help. Cheeky Monkey Media needed to figure out the most effective way to increase not just traffic, and interest for A.D. Hennick, but understanding and discoverability of their services as well.

Website Structure 
The website structure is not complex and is fairly minimal in terms of total number of pages. However, it still needs to provide users with information on the different services available.
In order to achieve A.D. Hennick's goals, additional pages were added to the site structure. These included: 
Consulting Services
Resources – The parent for the News & FAQ pages, and has any additional links or information that could be helpful to clients 
News – Expansion of this page includes blog items so that A.D. Hennick can speak directly to their audience and keep them up-to-date about current liquidations 
FAQ
The other structural changes we made were a persistent footer form and the addition of CTAs across the site to help guide visitors through the site flow. The end goal of the website flow is to contact the A.D. Hennick's team.
Stylistic Improvements
Stylistically, the site needed a facelift. Using a WordPress template, we went for a high contrast, modern look that would convey professionalism and trustworthiness. We built upon their brand colours by adding a Prussian Blue to the site. The color blue can be associated with intelligence, reliability, and trust. A.D. Hennick's visitors will know that they have found a reputable source of information and assistance. 
Improved Analytics
To increase exposure through both SEO and LinkedIn, the Cheeky Monkey team looked at Google Analytics, Google Tag Manager, and other analytics tools to review specific interactions, long-term trends, overall traffic, and bounce rate. From this data recommendations were made for testing to determine what options would have the most positive effect for the client. A continuous website enhancement roadmap was developed based on the findings. 
Social Media & Pay-per-Click
An initial Social Media strategy was also created to increase A.D. Hennick's exposure on relevant social platforms. Prior to launching paid ad campaigns, this social media plan will serve to  grow their presence organically.
Management of A.D. Hennick's PPC ads will be supported through creative ad development, landing page creation, monitoring, conversion tracking, reporting, and targeted cost per leads. Through this management ongoing optimization will be possible.


Services
Design & Architecture
CTAs
Wireframes
Keyword Research
Social Media Marketing Plan
Content Development & Optimization
On Page SEO
Results
Went from impossible to find with a branded search, to first & second page non-branded keyword searches for the Toronto area.
Now getting trackable metrics to use for ad targeting
Organic and social traffic on a steady increase, organic jumping 10x in 2 months.