The Cheeky Monkey Media Blog
A few words from the apes, monkeys, and various primates that make up the Cheeky Monkey Super Squad.

If you're excited about the upcoming website project or think that tackling the website might be the right step forward for your organization, you may need to get the rest of your team on board. …especially given that you will need your executive team to help shape the project's direction.
With so many things on the go, your organization's website might not be on your executive team's, or your board's top list of priorities. And that's not a surprise. In fact, it makes perfect sense.
When you're busy taking care of the day-to-day, putting out fires left and right, juggling meetings, and so on, your website is not usually top of mind. Unless of course, you're trying to do something on it and it's not working, in which case you're probably indulging in visions of tossing your computer out a 10th-story window and then stomping on it.
According to the 2016 Nonprofit Digital Outlook Report:
staff shortages, budget restraints and lack of training for digital strategies and tactics plague nonprofits. Only 60% of respondents have staff dedicated to online/digital strategy. ~Mike Johnston, President and Founder, hjc
So, if you're wondering how you're going to manage such a large project, with a limited number of people, and resources, not to mention get approval for the project and get the rest of the team on board, that's completely fair.
Stay positive and calm. You've got this. But, you do need to talk to your boss about the idea. Thus, I've compiled some tips and tricks to get you started.
# 1 –  Know your boss's agenda
As Lisa Wiseman, president of the Wiseman Group, states in her Fortune Magazine article "The Worst Thing You Can Do When Pitching To Your Boss,"
if your idea doesn't coincide with their agenda, you might want to reconsider.
This doesn't mean that you can't get your idea approved. Here's some more from Wiseman's post:
It's hard to get senior management to pay attention to new ideas – not because the leaders are arrogant or overwhelmed, but because they are disciplined. It is an executive's duty to define and defend a strategic agenda – a small set of initiatives that will keep the organization competitive and relevant. This strategic agenda becomes a repellant to new ideas or initiatives, or anything that interferes with or distracts from that agenda. Hence, Johnny-come-lately ideas (and the people who push them) tend to irritate them. It's what makes the best leaders and entrepreneurs simultaneously inspiring and frustrating.

So if you want support for a new idea, instead of trying to add your stuff onto the agenda of an executive, show how your ideas will further their already-set agenda. In other words, to get buy in, you have to make the tie-in.
If you're having trouble connecting your idea with your boss's agenda, I highly recommend Wiseman's article. Being able to make that connection will save you both a lot of frustration and miscommunication. Another article that is helpful in this respect is John Baldon's "How to Sell an Idea to Your Boss."
# 2 – Timing is everything
This second piece of advice is one I stole from Steve Wright, a Senior Manager (IT Operations) at Time Warner Cable:
Think back when you were a child, remember how you would wait for the appropriate time to ask your mom/dad if you could go out late or have a friend spend the night? Well the same principles apply here. Check with a few fellow co-workers and make sure the timing is right and the attitudes are in line. If your boss is stressed, distracted or having a bad day you may want to hold off… You may get a Yes if you keep this simple "trick" in mind. Difficulty with Talking to Your Boss? Top 10 Tips.
It's simple advice, but it's good. You don't want to talk to your boss about a new idea you have or a new action that will potentially require his or her attention if he or she is in a bad mood, or if something just happened to turn him or her against the idea.
#3 – Consider sources and thought leaders your boss looks up to our admirers.
At Cheeky Monkey, our bosses are really big on Gary Vaynerchuk – he's really intense and doesn't mince his words, but he does some pretty awesome stuff. So, when I have an idea that I think has legs, I'll do a quick look to see what Gary V has to say about it. I know that referencing a success story from Gary Vaynerchuk will only add value to my pitch.
# 4

 – Have some numbers ready to prove your points.
Even if you don't regularly deal in numbers or your organization doesn't regularly deal in numbers, they can provide a great visual of where you are now, and where you could be once your idea is implemented. To get you started, we're including two important stats from the 2016 Benchmarks Study published by M+R and NTEN: According to the 2016 Benchmarks Study published by M+R and NTEN, in the nonprofit industry, "website visitors per month increased 8% in 2015" (pg. 43). We've included the graph they provide below: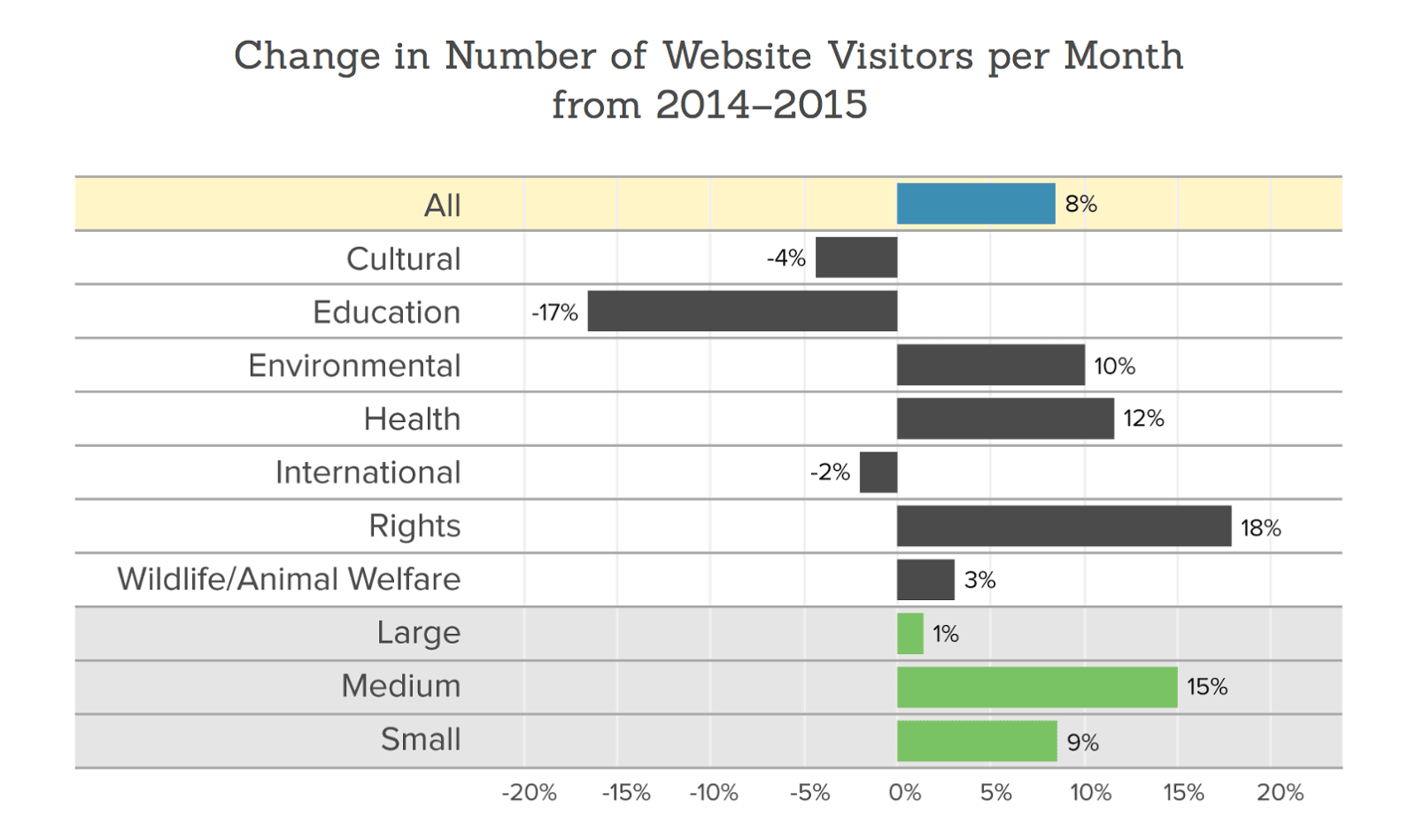 (
2016 Benchmarks survey, pg. 44)
The Benchmarks Study also provided a chart listing the about of revenue received per website visitor: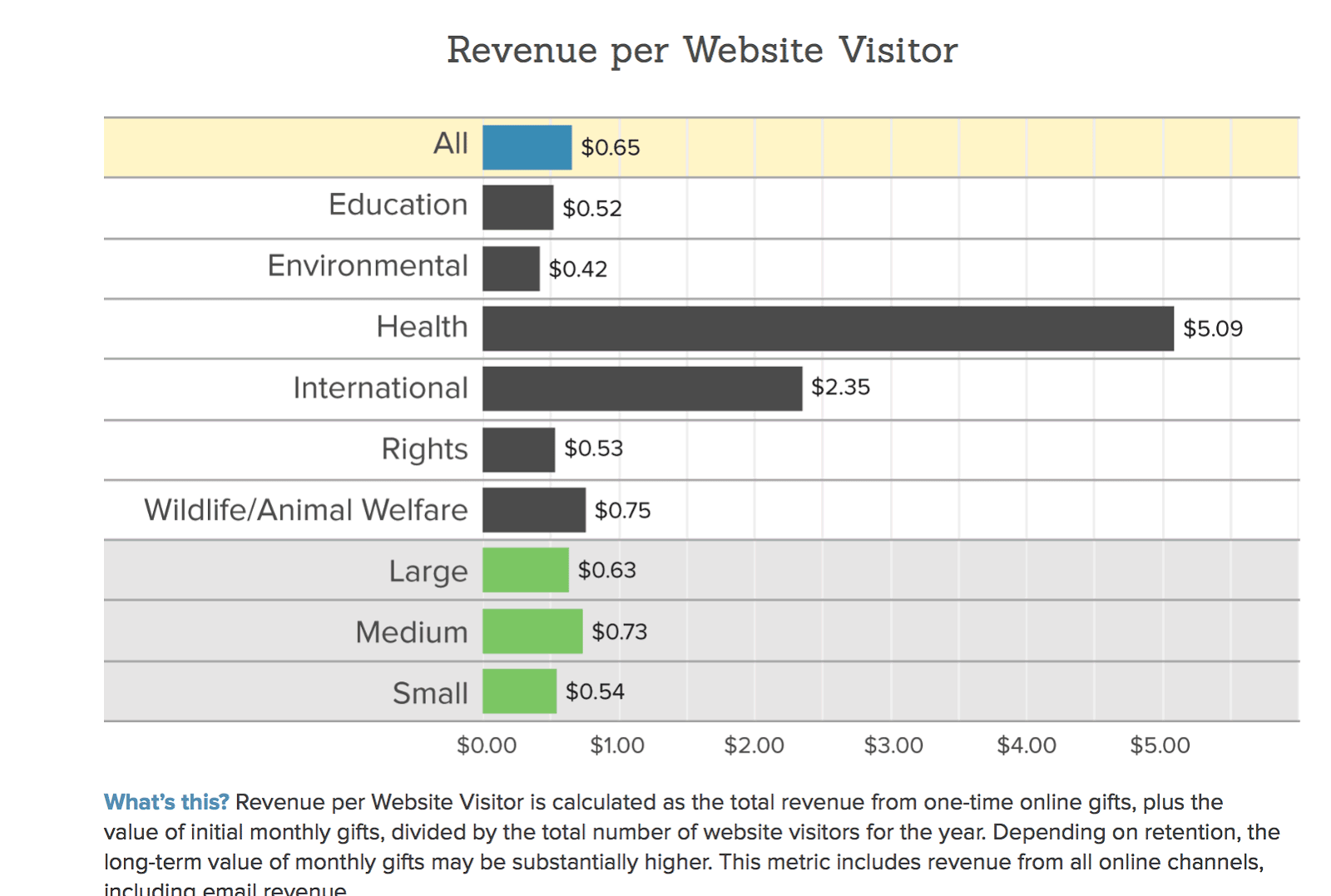 (Benchmarks survey, pg. 45)
Hope this helps! And, let me know if there is anything you would add or change.