The Cheeky Monkey Media Blog
A few words from the apes, monkeys, and various primates that make up the Cheeky Monkey Super Squad.

Getting that Grant: Where to Get it and How to Apply

July 28, 2016 / Treena Bjarnason
Talking to friends and Cheeky Monkey clients who work in non-profits, I've learned that grants make up a large chunk of the funding available to nonprofits.
Before I continue, I should let you know that Cheeky Monkey does not have funding consultants or grant writers on staff (though some of us do have some experience in this). Nevertheless, because I know the importance of grants when it comes to funding, and it's a topic I came across frequently while working the Nonprofit's Guide to Planning a Website, I would like to share some of the resources and information I've come across on grants and grant writing.
So, here it is… the grant proposal process demystified by the marketing professional …
#1 – Where to find grants you can apply for:
Grants your organization has applied for in the past

Nonprofit colleagues

Talk to your Board members. In fact, when I spoke to Sister Lois Dee of the Dominican Sisters of Hope, she told me that when the sisters still gave grants through their Ministry Fund and Ministry Trust, they only awarded funding to projects where one of the sisters was either directly or indirectly involved.

Check out grant directories

Consider well-known foundations. For example the

Bill & Melinda Gates Foundation
Cool Note: Did you know google has special resources for nonprofits? Check out Google for Nonprofits.
For an additional list of places to search for grants, check out our blog: Are you looking for Grants for Nonprofits in Canada and the US?
#2 – Find a grant opportunity that will work for you:
Semi-retired, professional Grant Writer and Researcher Stan Cohen (who was referred to me by an individual in the New Jersey Sharing Network) explained that when picking and choosing which grants to apply for, you want to make sure that the interests of your organization match those of the organization that is granting funding.
He went on to say that you want to make sure that the goals of the funder match those of the organization that is applying for funding.
In other words,
When deciding which grants to apply for, consider whether or not you have a project or initiative that will meet the grant requirements.

There is no point in applying for a grant just because. Apply because you need a grant and because you are going to follow through and use the money as you indicated you would in the proposal. Not only is it unethical to do otherwise, it could also mean that you lose your funding.

When an organization or government gives a grant, they would often like the money to be used for a specific cause or program.
#3 – Review grant requirements:
For example, does the grant ask for an evaluator? If so, consider this advice from Jan Mitchell Johnson at Grantsformation:
"It's important to develop a relationship with a few potential evaluators  BEFORE you need them.  Waiting until you are writing the grant (which is due in 2 weeks) is too late.  If you have working relationships with evaluators, they can advise you on your program design while you are writing and may even write the evaluation portion of the grant for you – either for a fee or in exchange for being the program evaluator once you are funded." (Quoted from Quora response to  "I want to apply for a grant for a project, but I have no idea how to write a proper grant proposal. How can I go about this?").
Do you have to be focused on a certain demographic to be eligible for the grant? Do you need a particular number of participants? Are there restrictions on geographic location?
#4 – Do your research:
All of the individuals I've spoken to on the topic of grant proposals, and the internet forums I've read on the topic suggest the following:
If your organization has submitted successful proposals before, review it

If your organization has submitted unsuccessful proposals in the past, review and make sure you don't make the same mistakes twice

See if you can get access to other successful proposals. Examine and analyze what worked well and what didn't

Take the time to research and get better acquainted with the organization that will give the funding, and get to know their values

Make sure that you have a solid understanding of who is running the program, what they do, what their budget is, what their main objectives are, and how they plan to measure success. For example, Cohen states that when he is asked to write a grant he likes to go and talk with the people who are doing the program.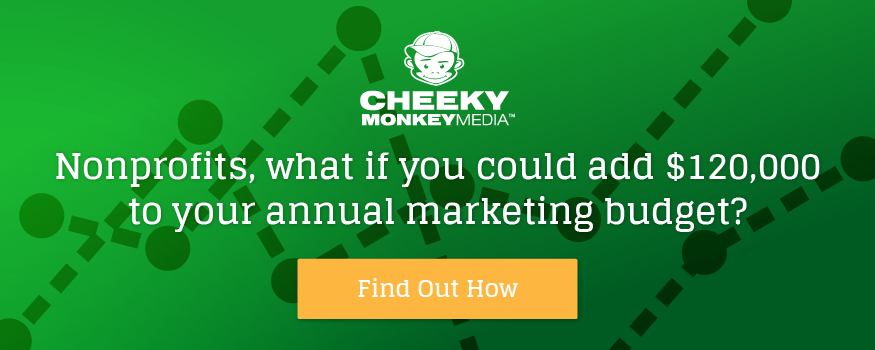 #5 – Double check…
…that you know exactly what the funding organization is looking for and their deadlines.
I love Melissa Baker's response to the Quora question – "I want to apply for a grant for a project, but I have no idea how to write a proper grant proposal. How can I go about this?"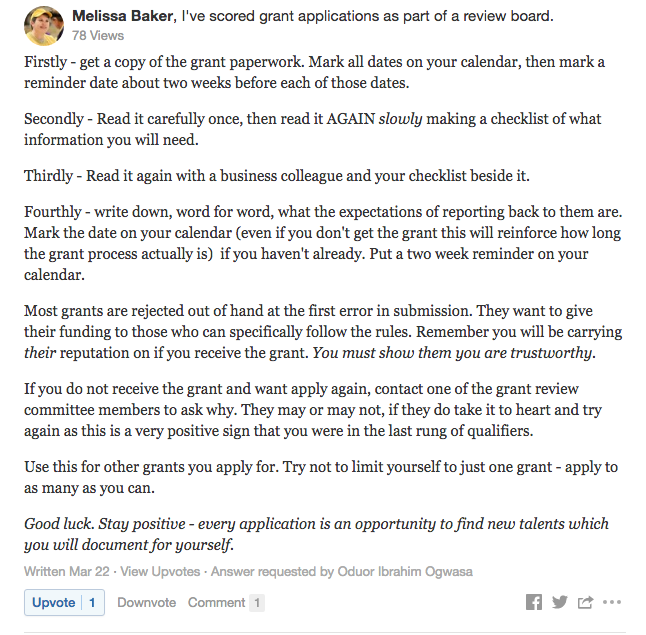 #6 – Start Writing:
This is where you use the checklist  Melissa Baker suggests you create in the screenshot above. As Cohen explains:  Answer the questions the funder asks. Don't give more. Give them what they want, exactly what they want, the way the want it.
By far the best advice I've seen when it comes to grant writing, is Cancer Research Grant Writer Cath Ennis's response to the Quora question indicated above:
A. "Start with an outline: what hypothesis are you aiming to test? What's the problem you want to solve? How will you know if you've succeeded? Then work out exactly what you'll need to do to carry out your proposal. Will you need to hire people? What will their salaries be, and how long will you need them for? Do you need to buy any computers or other equipment? How much will they cost? …. Put all this into your budget and write the proposal around that. …" 
 This is where you can make your pitch for a website. Will you need additional funds that you will utilize to update your website so that it effectively communicates your message about your new program or initiative? Do you need additional funding to implement a membership portal where individuals that take part in your program can go for additional resources and support? Perhaps you will be offering other services via your website that this/these demographic(s) would not otherwise have access to? Want to learn more about planning a website that helps you connect with donors and inspire passion for your cause? Check out our recently released Nonprofit's Guide to Planning a Website.
B. "Outline  the background to the project (e.g. what other people have already tried); where the gaps are that you want to fill (your hypothesis to test/problem to solve); exactly how you plan to do this (in as much detail as the page limits allow); how you'll measure success; what you'll do if your first choice of methods doesn't work out; what you plan to do next after the original project's completed."
C. "One extremely important point that a lot of people miss is that you have to explain not just why the project is worth doing, but why you're the person who [or your organization] should do it. So you'll need to explain how your education, training, and skills pertain to the proposal."
Avoid the use of jargon and fancy language. Be clear and concise. The evaluators do not wish to, and will not, shift through a weakly formed idea or plan. They want to be able to understand what you are trying to do easily and quickly. The individuals on the evaluation committee are going through hundreds of proposals. They do not have time to derive meaning from your proposal. If it doesn't make sense or doesn't meet their requirements, they will throw it out.
Also, do not forget to keep the funding organization's mandate at the front of your mind. If your project or initiative doesn't help drive the funding organization's mandate forward, they will not grant you funds.
Similarly, don't try to sound smart, or sophisticated, or worldly. Funding agencies have a lot of experience reviewing applications, and they know when someone is trying to pull the wool over their eyes. Write thoughtfully and honestly. Your passion will come out naturally.
#7 – Review and revise
Leave the proposal for a few days, review and revise again. Have your supervisor review the proposal, and then revise again.
#8 – Have someone else review and revise
Have trusted friend or colleague review the checklist and ensure you have answered all of the questions and met all the requirements.
#9 – Double check…
…that you have all the supporting documents. Do you have the right postage? Have you printed or formatted according to the specifications?
#10 – Mail in on time!
#11 – Have fun!
If there is one thing all the experts agree on, it's that writing good grant proposals takes time. If you don't get it this time, try again.
What do you think?  Do these tips help? Do you use other strategies that work for you? Let me know via email at
[email protected]
.
Psst, if you're in charge of your website, and you've committed to making that site a source of valued information that spurs visitors to positive action, download the Nonprofit's Guide to Planning a Website. You'll (re)discover your website as an invaluable tool for building authentic and (dare I say) valuable relationships with your donors and your community as a whole.