The Cheeky Monkey Media Blog
A few words from the apes, monkeys, and various primates that make up the Cheeky Monkey Super Squad.

Breaking Down Your Content Marketing Strategy = Success

September 22, 2016 / Rick Bjarnason
If you're a content marketer in today's day and age, you're probably wondering what you should be doing to achieve greater success with your content marketing strategy. It comes down to content marketing success metrics, because as one unknown, but clearly very smart person once said:
"If you aren't tracking, you aren't improving."  – unknown, no seriously, we don't know who said that.
It's true. The competition for online traffic is fierce. These days, businesses need to track metrics more than ever.
Why are content marketing success metrics important for effective inbound marketing?
MarketingSherpa reports most industries to have average conversion rates between 5% and 10%. Or put another way,  that means 5 to 10 individuals out of every 100 converts into paying customers. Imagine if one client brings in an average of $1000.00 per purchase, you could be looking at $5000.00 to $1000.00 in online revenue, more depending on your industry and average worth per customer.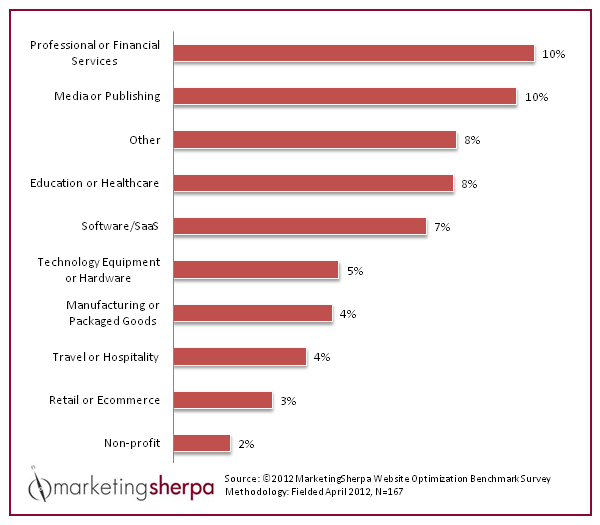 Obviously, there is a lot of money on the line.
Having a trackable content marketing strategy and process in place is key to staying competitive and kicking ass!
And that's not just our opinion.  
According to the 2016 B2B Content Marketing 2016 Benchmarks report, "research consistently shows that those who document their strategy are more effective in nearly all areas of content marketing."
However, according to the same report, 68% of B2B marketers don't even have a documented strategy, that's 3% less than last year.
The problem is that most companies have no idea how they are going to build a documented and trackable digital marketing strategy. They don't know what to track, what to organize, and what the numbers are telling them.
If you're part of the 68% of marketers who don't have a documented and trackable digital marketing strategy, don't worry.
Here are five actionable steps to help you get organized and on your way to greater content marketing success. (And yes, these are based on content marketing best practices. I can't believe you even had to ask. Geeze! …pst, notice the keyword placement? Shame on us.)
Content marketing processes, step one: Figure out what your organization does and why it exists.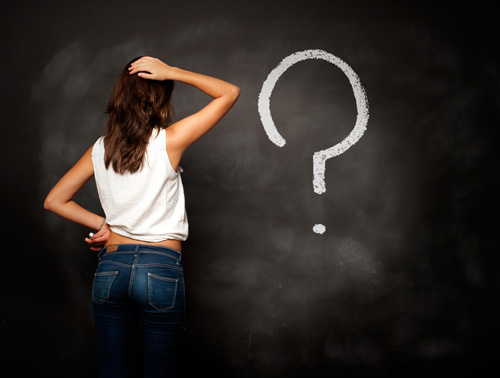 What is your business truly about?

Why does the business or product exist in the first place?
These may be oversimplified questions but understanding your "why" is the best way to understand your company's reason for existing. (Take Action Tip – you can find this information out by talking to the C-levels and reviewing your business plan).
Simon Sinek says it best in his blockbuster book Start with Why: (<–note: the link is to his TedTalk, not the book).
"Very few people or companies can clearly articulate WHY they do WHAT they do. By WHY I mean your purpose, cause or belief – WHY does your company exist? WHY do you get out of bed every morning? And WHY should anyone care?

People don't buy WHAT you do, they buy WHY you do it."
Here's another way to look at this: If a person goes to a hardware store to buy a drill, they don't really want a drill. They want a hole. That is why the drill exists. To create holes.
Essentially, you are asking yourself what the point of your business is.
If you are in managed services, what problems are you solving?

Have you built a product? What is its true purpose?

Once you understand the answer to these questions, you can start to draft your Mission.
Once you have a solid understanding of what your organization does and why you need to craft your mission statement.
In fact, your organization probably already has one. If so, get to know that bad boy, seriously. If it doesn't, here are some of my favorites:  
TED – "Spreading Ideas".
Only two words but simply powerful.
Patagonia's Mission Statement – "Build the best product, cause no unnecessary harm, use business to inspire and implement solutions to the environmental crisis."
Notice that a mission statement does not have to be long.
Just a few more examples…
The Humane Society: "Celebrating Animals, Confronting Cruelty"

Boy Scouts of America: "To prepare young people to make ethical and moral choices over their lifetimes by instilling in them the values of the Scout Oath and Law."

IKEA: "AT IKEA our vision is to create a better everyday life for many people. Our business idea supports this vision by offering a wide range of well-designed, functional home furnishing products at prices so low that as many people as possible will be able to afford them"

Cheeky Monkey Media: "We are the creative minds and technical muscle that can craft your vision. Cheeky Monkey Media is a troop of digital experts helping our partners create, execute, and deliver kickass digital experiences."
Once you know who you are, what you are doing, and why, you can start getting to know your ideal customer.
Content marketing processes, step two: Get to know your target audience, ie. your customer
To market a service or a product, we first must get really clear on who our client really is. Where they live, how old they are, and what makes them tick. Therefore, it is very important to start gathering information about your customers with the plan of making an Avatar.
What is an Avatar?
Sometimes called the buyer persona, the avatar illustrates all the traits that make up your ideal client.
Once you know who you are talking to, you have the chance to create content that resonates with your specific readers. The key word here is specific.
For instance, say you sell running gear. Assuming that your target market is all runners is wrong. So wrong.
There are a ton of different types of runners:
Marathoners

Trail Runners

Track runners

Casual

Ultra runners
And they all need different equipment. Do you think the track runner needs the same shoes as the guy out running trails? Not a chance.
Here is an example of one of the Cheeky Monkey Media avatars: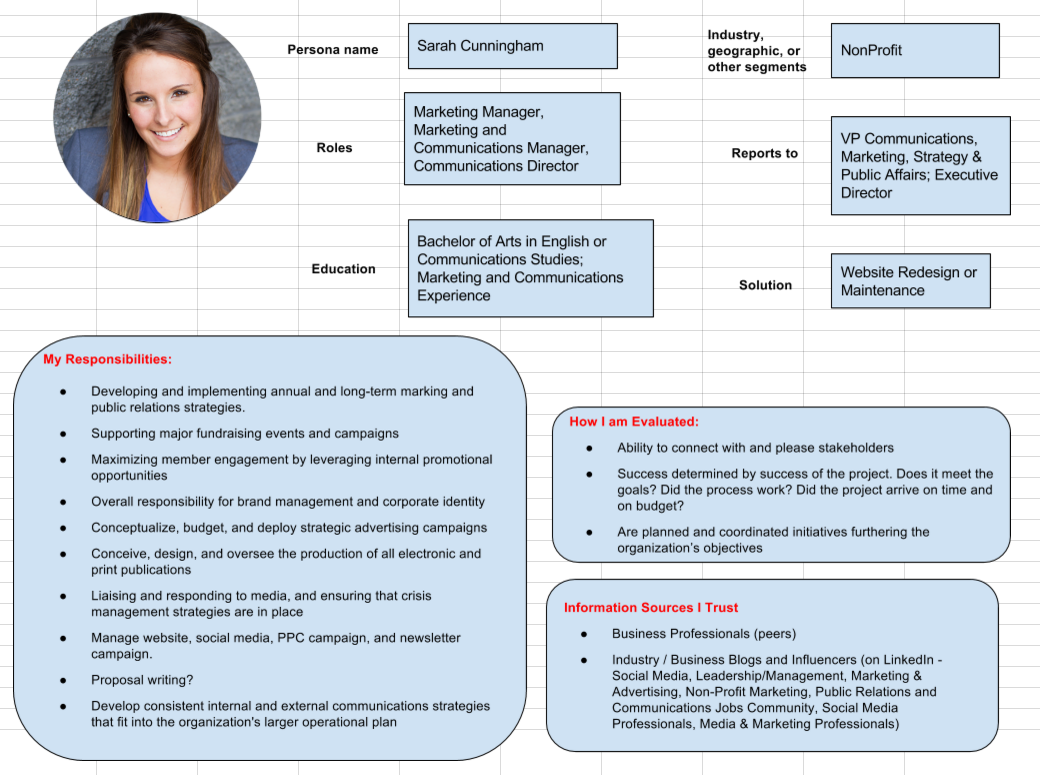 Determine what are your customers struggling with.
Remember we are still in the planning phase. Just because we know who we are targeting, it does not mean we know what is bothering them.
So how do you find out?
The simplest way is to ask them. Reach out to as many people as you know that match this general profile.
Don't worry at this stage if you are stumped. There are lots of ways to find avatars on the internet. Facebook and Reddit are loaded with specific groups, and you can start there for some general ideas. For step-by-step instructions on how to create a persona, take a look at our intro to buyer personas blog.
Going back to the example from Cheeky Monkey, we included the following information in our avatars: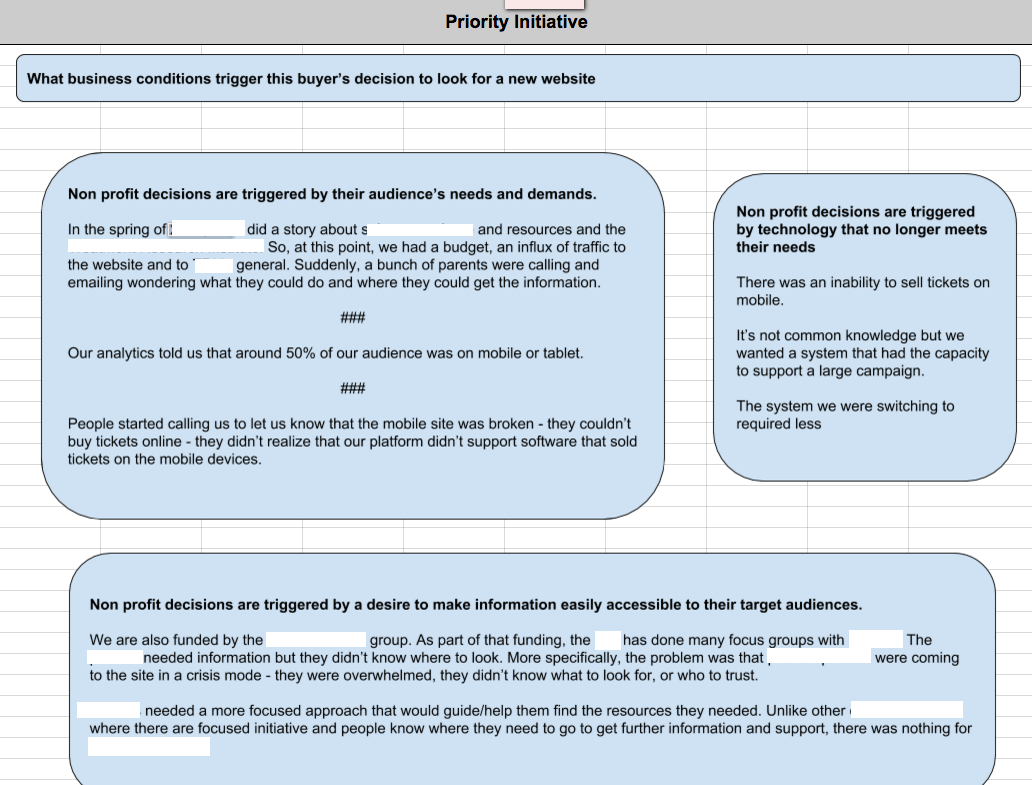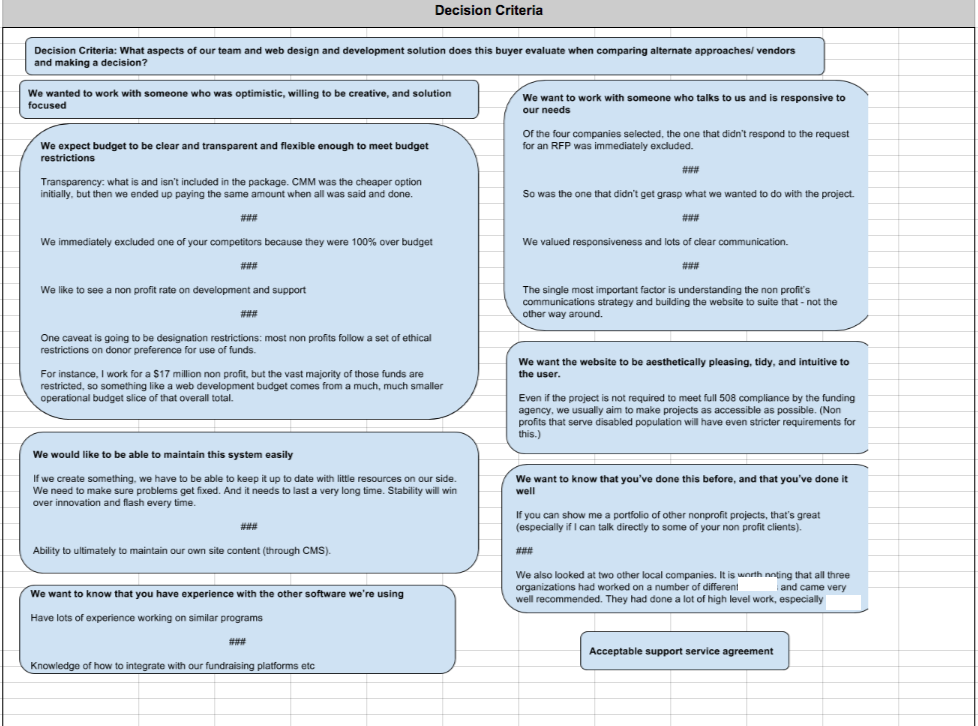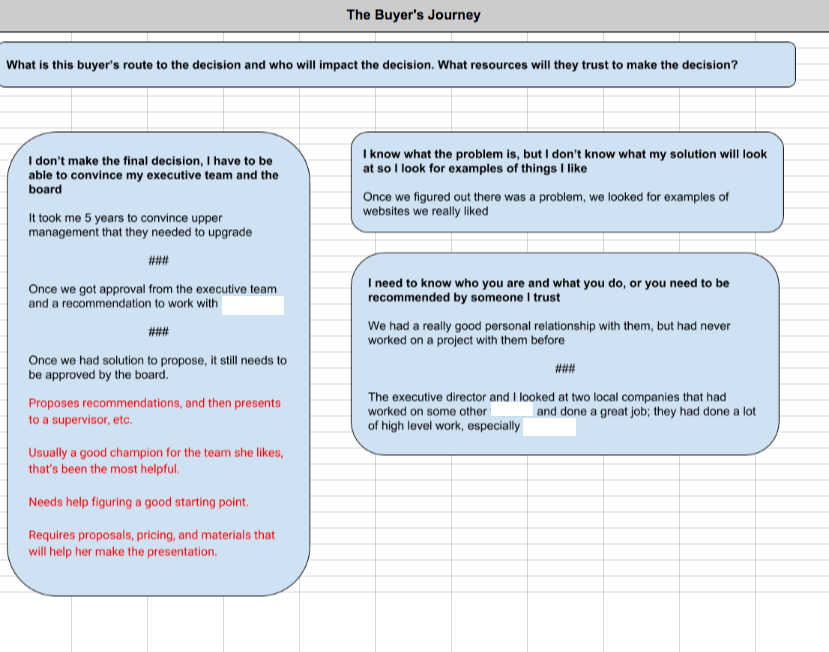 As you can see, our avatar is more than just a pretty picture. Look at all the great information we have gathered.
Content marketing processes, step three: Conduct a situational analysis to determine who your competitors are and how you measure up.
Once you have a sense of who your customers are, and what their pain points are, you will need to assess how you measure up to your competition.
You can start by making a list of your competitors. (Take Action Tip – Go back to your avatar, did your personas mention competitors? What about your colleagues? Have they come from 'rival' organizations?)
Next, run your websites through a few online tools that will give you a sense of where you stand. (Remember this is the time where we are setting the baselines.) Two good examples are SEMrush and MozPro.
Finally, to really get a sense of the context your marketing plan will exist in by using the SWOT approach. The SWOT approach evaluates your organization's strengths, weaknesses, opportunities, and threats. Try to be as honest as you can at this stage. Remember, you setting baselines.
Content marketing processes, step three: Set actionable and measurable objectives. Every effective marketing plan needs them!
This one should be pretty clear. Based on the customer research and situational analysis you did above, you will be able to set strategic marketing objectives, that you link to measurable success metrics.
Usually, you will have identified a few keywords that you can make a difference. Similarly, you may have discovered a marketplace you've overlooked.
One thing to remember at this point we are still setting objectives. Not figuring out how to accomplish them, comes later.
To make sure we are on the right track a good tool is to use the SMART technique, outlined in Cameron Herold's Double Double: How to double your revenue and profits in 3 years or less.
S = Shared: Shared goals come with extra pressure to hit them, so get your team on board.
M = Measurable: Put a number on each goal. Without numbers, there is no clear way to see if you accomplished your goal or not.
A = Attainable: Is the objective even possible?
R = Relevant: By accomplishing this goal will it make a difference. *note – this is the easiest to miss of the lot
T = Time-based: Due dates are important. Accomplishing a goal too late may not help move the needle. While finishing too early may indicate it was not aggressive enough.
The SMART technique will help establish whether the goals are realistic or not.