The Cheeky Monkey Media Blog
A few words from the apes, monkeys, and various primates that make up the Cheeky Monkey Super Squad.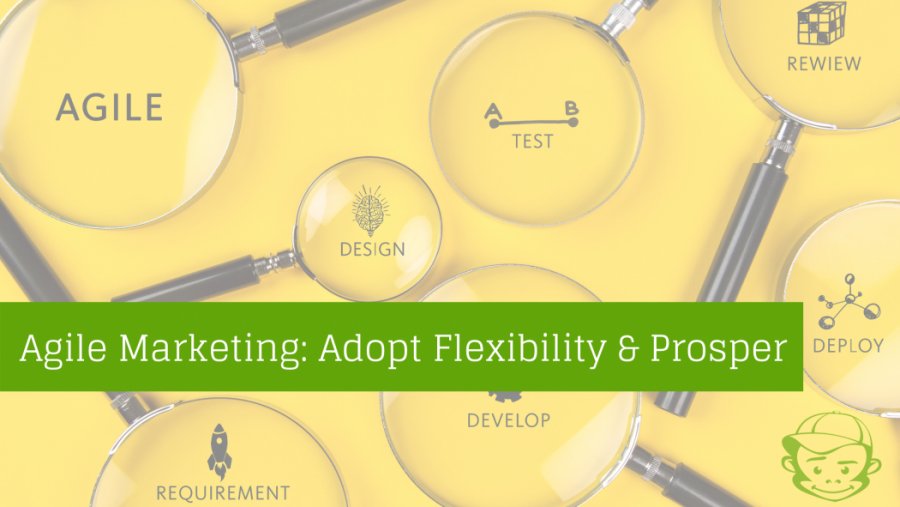 Agile Marketing: Adopt Flexibility and Prosper ????

May 18, 2021 / Treena Bjarnason
It's no secret that today's world is going through some serious stuff. Which is why it's never been more vital to have the ability to adapt and pivot within our changing societal environment and global economic flux. A bit heavy, slightly dramatic – but all true. There is no better time to talk about how the Agile Marketing mind-set and flexible process can evolve your marketing strategy into a profitable, results driven practice for your business. 
Be The Tortoise, Not The Hare
In the realm of Agile methodology, slow and steady absolutely wins the race… but you do need to remember there really is no finish line in the marketing world. Just the next climb, or in our case, the steady ascent of your marketing strategy. 
Getting Agile is about proactive, collaborative, and measured steps, while continuously learning and improving along the way (not only for development tasks, but as individuals and contributing team members as well).  
Four guiding values for learning & adopting Agility in the marketplace: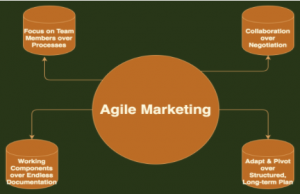 Within the Agile Marketing Manifesto, which was compiled in 2012, there are also ten guiding principles to help your team stay on the right track for marketing dexterity & flexibility:
Our highest priority is to satisfy the customer through early and continuous delivery of marketing that solves problems.

We welcome and plan for change. We believe that our ability to quickly respond to change is a source of competitive advantage.

Deliver marketing programs frequently, from a couple of weeks to a couple of months, with a preference for the shorter timescale.

Great marketing requires close alignment with business people, sales, and development.

Build marketing programs around motivated individuals. Give them the environment and support they need, and trust them to get the job done.

Learning, through the build-measure-learn feedback loop, is the primary measure of progress.

Sustainable marketing requires you to keep a constant pace and pipeline.

Don't be afraid to fail; just don't fail the same way twice.

Continuous attention to marketing fundamentals and good design enhances agility.

Simplicity is essential.
Our World: Flexibility is Fundamental 
I think we can agree that flexibility is a cornerstone of any good marketing strategy. With the needs and wants of online users (and organizations themselves) being very organic, those needs and wants will shift, or respond accordingly, with the state (or environment) of our global community. 
Market shift – By getting Agile, you can be proactively prepared with current market research & metrics to stay on top – or even ahead of the stereotypical marketing game 

Unexpected or inexplicable online shift (a new normal) – following a flexible, goal orientated routine, as opposed to a strict or rigid plan, will allow you to pivot quickly & efficiently to market changes. 

Iterate on the fly – utilizing Agile allows you to more quickly conduct real world testing & measuring. Positive failure is absolutely ok, as it allows you to keep iterating until you have the success rate
"Flexible v. Rigid Planning" is one of the core values of Agile. Having the ability to pivot or bend your strategy to changing market demands increases success, sustainability, & continuous upward growth. What works today may not work tomorrow!
 "Agile processes harness change for
the customer's competitive advantage"
[Agile Marketing Manifesto]
Adopting to Agile Today
One of the best things you can do to help your marketing strategy is to assemble the right team members, then let them be invested in all aspects of your business plan. Then, you need to listen to them. Empowering your team – believing & trusting in each individual – enables their skill sets to blend into a successful, collaborative, marketing machine.
[image: fullcircleinsights.com]
Below are some of the top marketing trends to watch and adopt in 2021:
Inclusivity.

Featured snippets & no-click searches.

Sustainability: loud and proud.

Ad-blocker blockers.

Image and video SEO for visual searches.

Interactive content.

Customer segmentation.

Local SEO.
[source: 99 Designs]
Optimize for Google's next update

Prepare for the end of third-party cookies

Foster first-party relationships

Focus on customer retention

Start selling on social

Follow statements of purpose with action

Build trust

Grow communities

Optimize for voice search

Lean into local SEO

Go casual in social videos

Go live

Tap into micro-influencers

Use retailer media networks

Establish brand partnerships

Get into augmented reality

Automate what you can

Embrace B2B2C
[source: WordStream]
The Agile Monkey
Cheeky Monkey Media has been embracing the Agile Methodology since 2013, as our troop is dedicated to helping businesses reach their marketing goals, together. By utilizing our flexible WebOps approach, we can help bolster your marketing team and strategy through 2021 and beyond. 
Bonus: Want to learn more? Download our WebOps whitepaper for free!